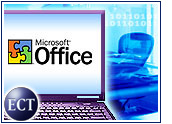 Hoping to train customers to view one of the most-used office productivity suites as more than just word processing and presentation software, Microsoft has unveiled a program to accelerate development of new software that can help enterprises get more out of Office.
The company hopes the initiative not only will demonstrate that the value of Office goes beyond its widely used functions, but also will spur new business at the scores of technology industry partners that specialize in integrating and customizing Microsoft-based solutions.
Microsoft vice president Peter Rinearson said the program is designed to "help customers build on their software investments and drive higher return on their investment in Office and other enterprise applications."
"By talking to customers about challenges they face, we discovered pain points our customers experience and that we can help eliminate," Rinearson said in a statement.
More To Come
The first wave of seven of what Microsoft has dubbed "Office Solution Accelerators" includes integrated software components, templates and guidance for the most successful architectures for such software. The software will become available this fall, with additional rollouts slated for 2004, the software maker said, and will focus on common "pain points" for Microsoft customers.
For instance, one set of tools will be geared toward worker recruiting functions, with the goal of making it easier for companies to communicate about the task of hiring new employees. Another will focus on proposal writing and still another on the Sarbanes-Oxley Act, which sets strict standards for internal auditing and accounting procedures.
Other tools will focus on aspects of Web services, with one solution, for example, aimed at making it easier to integrate Extensible Business Reporting Language (XBRL), business intelligence scorecards and Excel reporting.
Target Times Two
Analysts said the accelerator program seems to have two different but equally critical targets. First, Microsoft hopes to convince end users that Office is versatile enough to handle specialty tasks in addition to general document production and management.
Also, the software maker is hoping to spur partners to develop richer, more highly specialized tools that work on top of the Office suite by demonstrating market demand for such product sets.
"A lot of workers are already comfortable with Word and Excel, so if there's a way to make those programs do more heavy lifting in an enterprise, that's going to be appealing," Yankee Group analyst Dana Gardner told the E-Commerce Times. "The fact that companies are already paying for this software is another selling point."
Addressing Concerns
Gardner added that Microsoft also is addressing criticism with Office 2003 that meaningful upgrades of the software come too far apart, with some releases containing only minor fixes or feature updates. He also predicted that future upgrades promised in the accelerator schedule will leverage XML, enabling enterprises that are ready to take the Web services plunge to open up more documents and spreadsheets via the Internet.
Industry analyst Rob Enderle confirmed that Microsoft is hoping to make it clear to enterprises that their investments in Windows and Office are highly valuable — not only as productivity tools as traditionally used, but also as platforms for more customized offerings.
"If they convince partners to build more solutions as well, they're really locking in a big part of the marketplace," Enderle told the E-Commerce Times. He noted that Office has been in the news for what Microsoft likely would consider all the wrong reasons leading up to this fall's release, with a host of worms and viruses targeting flaws in the product. "They need to draw attention back to how much good this software can do."