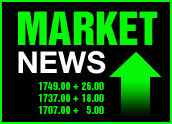 U.S. stocks rallied late in the session today as some positive earnings news outweighed a spike in weekly jobless claims and the prospect of tighter oil supplies heading into 2005.
The Dow, which was down more than 70 points during the trading session, reversed course in late trading and finished higher by 51.42 points, or 0.49 points, to 10,545.65. The Nasdaq also managed to wipe out considerable losses, finishing up 1.91 points, or 0.09 percent, to 2,128.02. The S&P 500 also finished in positive territory, tacking on 6.06 points, or 0.51 percent, to 1,188.87.
Unemployment Claims
Early in the day, the Labor Department said that weekly jobless claims rose again last week to 357,000, surprising economists who had largely expected a decrease. It was the second straight week of increases and came after what was widely viewed as a lackluster report on November, when 112,000 jobs were added.
Investors later were buoyed by a strong earnings report from National Semiconductor, which gave reason for optimism that the chip sector, under some pressure in recent weeks, might perform better than expected.
Yesterday, several niche chip firms, including Xilinx and Altera, lowered their sales forecasts. National Semiconductor stock was up nearly 5 percent on the session.
Also strong were shares of Ciena, which were up 23 percent on an upward revision of its forecast.
Eyes on Oil
Investors continued to monitor the oil futures market, which is awaiting formal word from the OPEC oil cartel about possible output changes heading into 2005. Oil futures rose slightly today, moving higher by 59 cents in New York to US$42.53 per barrel.
Early reports indicate that OPEC will vote to cut output in order to address the sharp fall in oil prices. Crude futures have lost more than $12 per barrel since reaching recent highs in mid-October.
The dollar had its second straight strong day, gaining 1.6 percent against the yen and 0.8 percent against the euro.