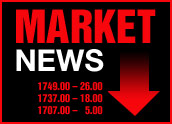 Stock markets slumped heading into the weekend, after a weaker-than-expected jobs report disappointed many investors.
The Labor Department reported that the economy added about 96,000 jobs in September, well below estimates that closer to 150,000 workers would be added to payrolls.
Unemployment Steady
The unemployment rate remained steady and the agency said the series of hurricanes that raked the southeast might have had some impact on hiring.
Markets traded lower out of the gate as a result of the data. By the close, the Dow was off 70.20 points to 10,055.20, posting a 1.4 percent loss for the week. The Nasdaq lost 28.55 and closed at 1,919.97, off 1.1 percent for the week. The S&P 500 slipped 8.51 points to finish the session and the week at 1,122.14.
Even a strong earnings report from Dow component General Electric, which said earnings rose 11 percent and revenue climbed 15 percent in the third quarter, was not enough to reverse the skid.
GE shares were caught in the downdraft, however, and posted a loss on the session.
Shut Port Impacts Oil
Fueling the drop was another spike in oil prices. Oil futures set yet another record, reaching US$53.40 in New York and closing at $53.35 after the offshore oil port in Louisiana was temporarily closed because of rough seas.
That terminal is the point at which about 10 percent of all U.S. oil imports enter the country, and its closure comes when supply concerns are already high heading into the winter heating season.