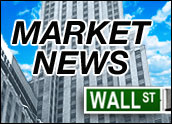 Shaking off summer doldrums, the stock market came back to life Monday as falling oil prices and upbeat economic data from overseas provided reason for optimism.
The Dow soared in early trading and was up by more than 100 points by early afternoon, only to have investors take some profits and erode some of the gains.
At the close, the Dow was up 80.96 points to 10,341.16, the Nasdaq finished higher by 14.08 points to 1,858.56, and the S&P 500 gained 7.67 points to 1,1211.30.
OPEC Influence
The gains came after oil prices plummeted, with crude futures down a dollar a barrel.
That move came after OPEC President Purnomo Yusgiantoro said the oil cartel sees a worldwide surplus of 1.5 million barrels per day that will lower prices over time. "The world has enough oil," he said.
The oil futures market also was relieved to see hurricane Frances bypass the oil fields in the Gulf of Mexico and instead turn inland.
Economic Expansion
Also buoying stock buying was data pointing to strong economic expansion in Germany and Japan.
German industrial production rose more than twice the forecast amount last month and Japan's stock markets have soared more than 2.5 percent in recent sessions after a survey of Japanese businesses showed double-digit growth in capital spending.
That is seen as a potential boost to the tech industry in particular.
Greenspan Speaks
Market watchers spent much of last week awaiting Friday's job report.
This week, attention is expected to focus on Federal Reserve Chairman Alan Greenspan. Greenspan is slated to speak Wednesday before the House Budget Committee and is expected at least to lay the foundation of an argument for a further rate hike.
The Fed has twice hiked interest rates this year, but some economists were discounting the likelihood of a third increase when the Fed meets again at the end of this month because of sluggish job growth earlier in the summer and other weak economic indicators.
Meanwhile, Greenspan's read on the economy's health could be critical not only for the markets but also for the political climate.