Marketo upgrades or somehow tweaks its revenue performance management application roughly every other month, but its latest release is special. Specifically, many of the features included in this release have been more than a year in the making, Gaurav Kotak, senior director of product marketing, told CRM Buyer.
"This is more than just a six-week cycle release," he said. "Some of the capabilities we have released were discussed by Phil (Marketo CEO Phil Fernandez) more than 18 months ago. In fact, I would call it the biggest release in our history."
Radian6 Influence
The changes focus on four areas: more reporting and analytical tools; more APIs to enterprise applications; more social media functionality; and workflow processes to make the various moving parts of Marketo and its integrations work more smoothly together.
Marketo has integrated features from the Radian6 social listening platform, including tools that allow companies to trigger responses from a certain channel, such as Twitter, or to elevate a lead — i.e., lead scoring — based on the social activity of a certain customer. (Radian6 was recently acquired by Salesforce.com.)
Instead of sending email, marketers can now respond to customers through Twitter or Facebook, noted Kotak.
If someone tweets favorably about a company, a brand using Marketo can respond in the same venue and bump the contact up in the lead queue at the same time.
"We are also tracking the impact of social activity in terms of number of names, opportunity and revenue that they generate," Kotak added.
Analytics Upgrade
Marketo has enhanced its analytics with several new out-of-the-box dashboards. It also has added new templates for tailored marketing campaigns.
One new dashboard is the Program Analyzer, which provides a visual snapshot of programs that are most cost-effective, Kotak said, by graphing the total cost of the program against what is expected to be generated.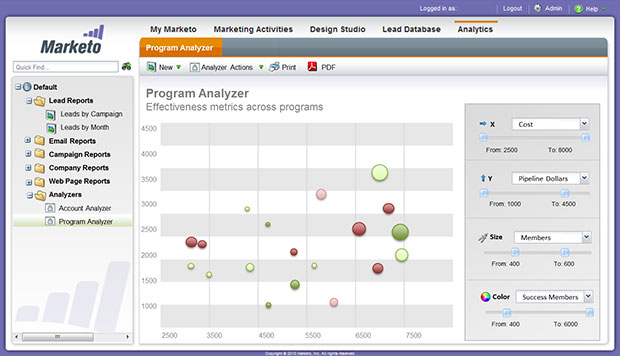 The Opportunity Influence Analyzer, another new dashboard, tracks which campaign should be credited with a customer's sale.
"A lot of the time it is not clear if marketing activities influenced a purchase — or if so, which one," said Kotak. "This analyzes how to answer that question."
WebEx, GoWebinar APIs
Marketo added integrations for a number of new enterprise applications aimed at managing online events. These include APIs for Cisco WebEx, Citrix GoToWebinar, On24 and Adobe Connect.
The point is to make it as easy as possible to manage the entire workflow related to an event within Marketo, Kotak said. For instance, if a user is holding an online webinar via WebEx, the integration allows the transfer of registration information to WebEx from Marketo. It also allows the import of attendee information back into the system.
More Agility
The last area of improvement, a more agile application, uses this integration as well as having built out better workflow processes. For instance, a user can manage multiple webinar events and enable B2B campaigns far more easily with the enhanced workflows, said Kotak.
"At the core," he concluded, "what we have done is made certain tasks like events or video campaigns a defined structure within Marketo."