There are several holidays tied to buying stuff. For Halloween, we buy all kinds of crap we shouldn't be eating and feed it to our kids. When Valentine's Day approaches, husbands and boyfriends live in fear of forgetting it, or getting their significant other's card, gift or flowers wrong again.
Fourth of July is when we buy expensive things we can burn and piss off our neighbors. Of course, there are the various gift-giving holidays that are linked to specific religious groups. I'm leaving out birthdays and anniversaries, which are set individually. I wonder — if we got rid of the gift requirements for all these holidays, would U.S. retail collapse?
Then there's Amazon Prime Day. Like Black Friday, at least the event is honest in that it doesn't try to pretend it's something other than a new incentive to spend money. It might as well be a holiday, though, because people will be shopping and not working for at least part of it.
Last week Amazon announced it was retraining a huge number of its employees. This week it is retraining us to buy on command. Sadly, like many of you, I'll be one of the lemmings looking for bargains with my credit card out.
Likely, like most of you I did not stop shopping weeks earlier, in order to have a lot of cash budgeted to spend — and save money — today. This suggests we should have a strategy in order to optimize the Prime Day opportunity and make sure that the savings we get are real.
I'll share some ideas about that this week and close with my product of the week: an affordable racing simulator that could reduce your chances of getting a ticket and keep your kid out of jail.
Appreciating Scale
Every vendor can have a sale, and most do, but even Sears sales events, when Sears was a national power, weren't really the international event Prime Day has become. Amazon Prime Day really is in line with a national holiday, and given the adverse impact on productivity, it is effectively an undeclared unofficial holiday for a significant number of us.
It is also probably nearly as stressful for the Amazon employees working in fulfillment as being in a war, because the two-day load on those employees can be around three times what it normally is (suggesting that maybe Amazon should give a lot of these folks a few paid days off to recover when Prime Day is over).
This scale points to Amazon's power, and in an election year when breaking up Amazon is actually one of the screwy platforms from the Democratic party, I expect that Prime Day probably reinforces the perceived need to reduce that power.
In short, the scale of this event from one vendor — which does rival Black Friday and particularly Cyber Monday — is pretty much unprecedented. By the end of the day, many of our pocketbooks will be decidedly lighter as a result.
Buying Strategy
First, set a budget for what you're willing to spend on Prime Day.
Next, start a running list of expensive things you want but don't need right away. Refrain from buying them until Prime Day (or Black Friday, or Cyber Monday). Consumables don't make that list, but if you want a new TV, stereo, appliance, or other expensive item (like the driving simulator that is my current product of the week), you should hold off until a discount day arrives and make your purchase then.
Track prices for those items at outlets like Best Buy and eBay, so that you know whether the Prime Day deal is the best out there, and so you don't get all fired up and pay more than you have to.
I'd set an item threshold of at least US$100, unless you have kids, because tracking adult items cheaper than that in many cases will require more work than you'd be willing to do. Check the prices during sales, and then when Prime Day comes up you'll know whether it would have been better to buy the item on sale earlier or on Prime day, and you'll be actively resisting Amazon's attempt to retrain you to buy at its command.
Prime Day, like the greeting card effort for Valentine's Day, is simply an effort to get you to spend more with Amazon and less with vendors who aren't Amazon. You're likely OK with this if it saves you money, and not OK if it doesn't. This process will help you determine if Amazon Day is a value or a trick for you personally.
There will be other opportunities to buy later in the year, and this is seriously too early to be stocking up for Christmas.
Real Deals
Like other large vendors (Walmart comes to mind), Amazon can get specially configured products. TVs are what I'm most familiar with in that there are defeatured products created to look like bargains that really aren't, so do make sure you are comparing Apples to Apples when you cross-shop the prices.
You may find, as I did a couple of years back, that the bargain Samsung TV you think you're getting actually is a stripper lacking some of the features that you want (like extra HDMI ports in my case and parts that won't fail after two years). These are value products positioned as though they're discounted premium offerings, and I too have been tricked by them.
It is easy to drop into a buying frenzy, which is what the vendor wants, and overspend.
Wrapping Up: Prime Day Is Fun, but
Prime Day is a showcase of Amazon's significant market power, and there are great deals available from the company. Still, there are also significant dangers regarding overspending, buying things you really don't need (like a lot of us do at places like Costco), and buying things that we think are good deals but really aren't.
So, set a budget, make a list with prices of things you are likely to save the most on, price them against the competition over time, and then buy with confidence you are getting the best deal.
That way Prime Day works for you and not just for Amazon — or any other vendor who tries this in the future. Oh, and say a quiet prayer for the poor saps in Amazon's fulfillment group who are making it happen this week. There really should be some kind of national recognition for them, as the workload they'll be under during Prime Day is nearly unbelievably high.

I really don't like racing games with a gaming controller. I don't drive a car like that, and it takes a lot of the reality out of the experience. Gaming simulators, good ones, can cost upwards of US$50K. I've used several of these and they are amazing, but getting my wife to approve a $50K purchase of a racing simulator was a nonstarter.
The Next Level Racing GT Track Simulator is $899 on Amazon, and for that price you don't get full motion simulation. What you do get is a decent racing seat, a place for your force feedback steering wheel, pedals, and a simulated shifter (if you want one — I didn't).
This is likely an ideal rig if you also want to use a virtual reality headset, because it doesn't come with a monitor mount (though I used a desktop mount for a monitor, and it worked just fine).
---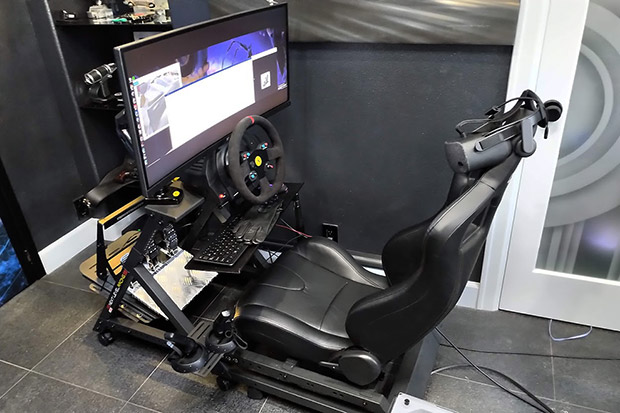 Next Level Racing GTtrack Cockpit
---
One of the benefits of using a simulator is that you can run on racetracks without wearing out your car, and if you have kids, they can work out their issues on the simulator and hopefully not feel as motivated to do the same in the family car.
I actually think a simulator is a great way to help kids learn how to drive because they won't break the simulator or take out a slow-moving pedestrian with one. (As a side note, I think every child learning to drive should spend a few hours in a hospital seeing what kind of damage can happen if they lose control, lose their attention, or drive too fast).
In my area, a teenager basically ended his life this week when he ended the lives of several others racing the family car. This happens way too often to make any parents feel their children are safe while driving.
There is an upgrade to this simulator that adds force feedback to the chair, which costs around $3K and is on my list of things I'm going to buy on Prime Day (let's hope it is on sale). I can't assess how good it is until I get it, so I will save that for a future post.
In the end, the Next Level Racing GT Track Simulator is the best I've been able to find for the money. Assembling it was a decent afternoon project, and it feels great in use. Largely because it is going to save me a ton in tires, but also because it allows me to explore the limits without breaking one of my cars, it is my product of the week.