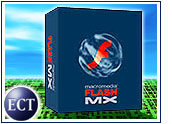 Macromedia has announced Macromedia Flash Player 7 for Linux. This new version of Macromedia Flash Player is said to offer improved performance and security and powerful new development capabilities. Macromedia Flash Player is bundled with Linux operating systems distributed by Novell, Red Hat, Sun Microsystems and Turbolinux.
"Macromedia is committed to the Linux platform and wants to make sure Linux users can experience the proven effectiveness of Flash technology on their platform of choice," said Jeff Whatcott, vice president of product management for Macromedia. "Developers can now take advantage of the breakthrough performance and advanced capabilities of Flash Player 7, enabling them to deliver a consistent cross-platform experience."
One of the world's most ubiquitous rich clients, Macromedia Flash Player is installed across more than 98 percent of Internet-connected desktops, according to the company, and a growing number of mobile devices. Flash Player has become a platform of sorts, with the runtime player working in conjunction with the recently released Macromedia Flex server and interactive content created with the Macromedia Flash authoring tool.
Engineers from Sun Microsystems and Macromedia have worked together to port the Flash Player 7 code to the Linux platform. "We are pleased to have worked closely with Macromedia to help bring Flash Player 7 to the Linux platform," said Curtis Sasaki, vice president of desktop solutions at Sun Microsystems. "The integration of Flash Player 7 into the Sun Java Desktop System will enable our joint customers to view the rich, interactive Flash content that is so widely used on Web sites worldwide."
The new upgrade to Flash Player 7 is designed to offers increased performance over earlier versions and to ensure a consistent cross-platform experience. With support for Cascading Style Sheets (CSS), Flash Player is designed to enable developers to blend HTML and Flash with consistent formatting. New support for Simple Object Access Protocol (SOAP) Web services connectivity will let developers create Internet application user interfaces that handle enterprise data in a service-oriented architecture.
"Our company has built a rich Internet application using Flash Player on Linux that delivers a point-of-sale system for more than 700 sales staff members that retains the look and feel of their previous system, which reduced training costs," said Chris Peterson, consultant, MediaSuite Communications. "With the updated Flash Player now on Linux, we will be able to deliver even better performance, additional multimedia capabilities, and proven stability to our users, as well as deliver applications created with Macromedia Flex."