Lyris has upgraded its on-premises version of its email marketing application, ListManager 11. This product is the counterpart to its cloud-based version — a more robust application that includes such features as specific database support.
There are four major upgrades to ListManager 11, Brennan Carlson, VP of product management, told CRM Buyer — all of which were made after the company surveyed its customers asking which features they most wanted to see.
Interactive and Easy Calendaring
Perhaps the most significant is the new interactive marketing calendaring functionality. It is a visual calendar that provides a top-down view of all campaign mailings and events, Carlson explained. "It offers direct interaction via drag-and-drop tools, as well as the ability to navigate directly to campaign reports to get performance statistics."
The navigation functionality is important, he emphasized. In general, most users gripe about email marketing products' usability, or lack thereof.
"We took a lot of effort to make sure the calendar provides direct navigation," Carlson said.
A Push Into Analytics
The upgraded version also now offers URL tracking and analytics, Carlson continued. "Users can map campaigns with tracking now, which helps marketers establish ROI as well as further segment the audience."
The feature integrates with most commercial analytics applications on the market, as well as with Google's free analytics functionality.
What this means for marketers is that they can better track how well a campaign does.
"Say a campaign made three offers in an email and assumed that its customers would click on the first two," suggested Jeff Goldsmith, ListManager's product manager. "Then it turned out they clicked on the third offer instead."
Analytics and other new functionality, such as the new click-through heat map, helps the marketer first determine exactly what worked with the campaign and whether to continue sending it out as is — that is, letting respondents just click on what they want, the third option.
"Or these tools can help the marketer figure out if there is another step or campaign to develop to get to the conversions it wants," Goldsmith said.
A Visual Map
The click-through heat map, also part of the new functionality, lets users see at a glance which percentage of users clicked on which campaign and other statistics.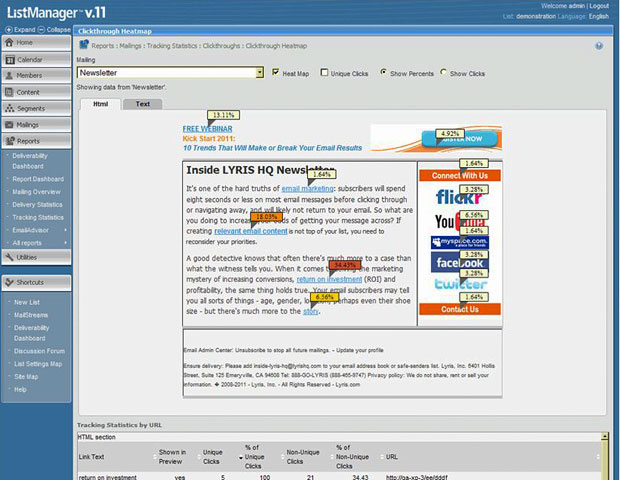 It is not new functionality in terms of data — users could access this information via a spreadsheet before.
"The heat map puts this information in a visual format," Goldsmith said.
HTML Editor
ListManager 11 has also upgraded its HTML Editor — a boon for less-sophisticated users who don't have an IT staff on hand, noted Carlson.
The new editor lets users create documents directly in Word and then change them into HTML.
"This is has been a problem for a lot of rich text editors that we think we have solved," Carlson said.