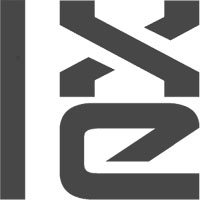 LXLE is an ideal distro for out-of-the-box functionality to handle your everyday computing needs.
It's a well-oiled lightweight distribution based on Ubuntu's long-term support releases for Debian and Lubuntu Linux from a community originating in the U.S. The latest version is 14.04.4, released last month.
It runs an optimized LXDE, or Lightweight X11 Desktop Environment, that has a comfortable look and feel with plenty of system settings to tailor its performance to your way of working. LXDE shares a close kinship with the appearance and performance of another lightweight desktop environment, Xfce.
However, LXLE — short for Lubuntu Extra Life Extension — taps fewer system resources than Xfce, making it just as fast and a bit more compatible with aging hardware.
It features security fixes, updated SeaMonkey (the default Web browser) packages and various small visual improvements. It is an easy-to-use alternative to other Linux derivatives.
LXLE comes with an impressive selection of default applications. It adds useful modifications and tweaks to improve performance and functions, and has several design changes and tweaks that make it even more suitable.
Problem Solver
I lastlooked at this distro about two years ago. It performed well then. I was even more pleased with LXLE this time around — so much so that it now runs on my secondary desktop computer as my preferred Linux OS.
I gave this release my tried-and-true test. I installed it on a problem-plagued aging computer that nine times out of 10 gives me trouble with compatibility issues.
I run several Linux lightweight distros on this box. The distros all have passed its hard-to-please test. That monster box has rejected most heavier-weight desktops environments that I like, such as Cinnamon.
It survives from the early days of Windows 7 when that was the latest Microsoft OS. Windows 7 still runs and shares the hard drive with several Linux distros. Adding LXLE to the hard drive collection with multiple partitions already in place went smoothly. The installation routine modified the boot manager configuration file flawlessly.
The legacy lemon failed Microsoft's upgrade criteria to Windows 10 thanks to Nvidia graphics no longer being supported. It has an Nvidia C61 GeForce 6150SE nForce 430 integrated graphics card.
Like other Linux alternatives the legacy loser box rejected, the default open source video driver locked up the system repeatedly. Unlike most other lightweight Linux distros, LXLE's stock proprietary drivers loaded from the system menu solved that problem.
Super Stupidity
Despite how well LXLE performed once installed, I had a teeth-gnashing episode over a seemingly stupid sequence in the installation process. Otherwise, I found its installation to be straightforward, especially on older computers that do not have to bypass Legacy Boot security issues built into hard drives.
Why do Linux developers insist on default settings that require username and password to unlock a sleeping screen display on the live session DVD/installation disk? At least provide potential users with that information. Keeping it a secret makes no sense.
The help forums for the current release on the developer's website made no reference to this username and password fiasco. User comments from previous releases indicated two things: One, that problem does not exist on LXLE. (It did then and does now!) Two, the Querty username with no password required was the answer. (It isn't!)
During the installation process, I saw the default username listed as Querty with a blank password field. However, that did not work from the live session.
By the way, the username "Querty" populates the settings window during the installation process. Be sure to change that to your preferred username when that panel appears on the screen during installation.
LXLE comes in the standard edition and a netbook edition. I would try the standard edition live session first. If you have trouble loading LXLE with it, switch to the even lighter-weight netbook edition.
Desktop Details
The main panel by default is at the top of the screen. It also has a panel on the bottom. This is a bit redundant as it had none of the notification and system icons already present on the top menu. I deleted the bottom panel and moved the top panel to the bottom.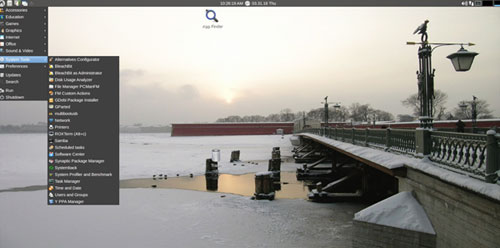 The LXLE distro has default settings placing the main panel at the top of the screen. A second panel hides below the bottom edge of the screen.
The LXDE environment has much of the panel configuration that I prefer in my main desktop setup with Linux Mint's Cinnamon desktop, but the controls for configuring the panel are spread among a few menu entries (such as Openbox Configuration Manager and the Panel Settings applet).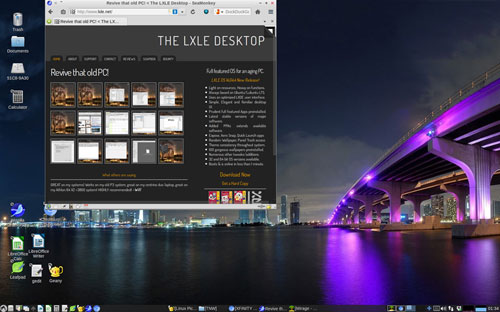 By comparison, a little bit of configuration effort lets you re-create the panel performance and look of the Cinnamon desktop panel at the bottom of the screen.
The main menu lets you add an application launcher icon directly to the desktop. It lacks a similar option to place the launcher on the panel bar, however. The trick to doing that comes with using a convoluted applet called the Application Launch Bar that is only accessible from the panel settings control by right-clicking the panel bar.
One glaring weakness is the lack of keyboard shortcuts to move from one virtual workspace to another. Adding the workplace switcher to the panel makes that navigation a one-click process, but I miss being able to keep both hands on the keyboard.
Another missing usability feature is the ability to place frequently used apps on the panel bar. That leaves the slightly inconvenient choices of clicking the main menu button at the far left of the panel or moving the open window out of the way to expose the launch icons I placed on the desktop.
A better workaround is resizing a full-screen window or repositioning an open window slightly away from a screen edge. That leaves just enough space to right-click on the desktop to open the menu. I still have to scroll around to launch the desired app, but it works.
Yet another missing usability feature for me is the lack of scale and expo displays as well as desktop effects that add visual displays when switching virtual desktops and opening or closing windows. Those features are my comfort zone from the Cinnamon and KDE desktops, so not having them in LXLE is simply a matter of adjusting my routine.
Applications Aplenty
The LXLE distro offers an impressive mix of features. For a lightweight distro, it packs a hefty list of included applications. For typical users, every program you need is preisntalled. LXLE comes with included applications that match what I usually add to other desktop distros that are not so lightweight. This includes GIMP, Shotwell and LibreOffice.
This list of included software is almost a contradiction in terms. Typically, lightweight Linux distros scale down the software that tends to be resource demanding. Often, users get lighter apps such as AbiWord instead of LibreOffice, for instance. LXLE comes with the latest version of the LibreOffice suite.
Games and accessory applications often are lacking in even the hardiest and most bloated Linux distros. Not so with LXLE Linux. Earlier versions offered some 28 game titles. The current release is closer to 16 titles. LXLE is not intended to be a gaming fanatic's panacea, but you will not be disappointed in this collection of diversionary and entertaining games.
The accessories menu includes 16 Linux standards. The system tools menu has two dozen more. Many of these I routinely add to whatever distro I install.
Dropbox Dilemma
The default file manager is PCMan. It does not work with the standard Dropbox utility installation. Using Dropbox is essential to my workflow, which involves accessing files on multiple computers in several work locations.
The Dropbox app that directly downloads from the cloud storage website caters to the Nautilus file manager. The Lubuntu Software Center and the Synaptic repository did not have a package for PCMan.
I had to install the needed alternative files to set it up manually. There aretwo quick commands you must enter into a terminal box. Once done, the problem is solved.
System Symmetry
The primary package management chores are provided through the Lubuntu Software Center. It has a refreshing plain and simple appearance.
Using it requires a two-step process. You search for the application you want to install, then you place it in the Apps Basket and go there to authorize its installation.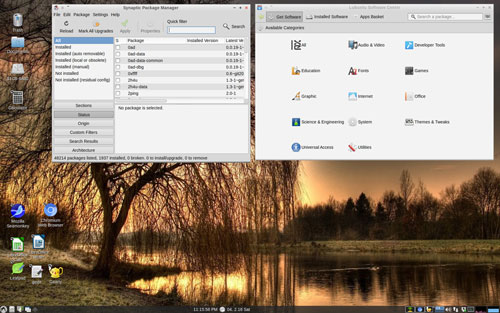 LXLE lacks its own software store but taps into the Lubuntu Software Center and the Synaptic Package manager to add/remove programs.
LXLE has the Synaptic Package Manager and the Lubuntu Software Center to maintain system files and add or remove software. It also has the Y PPA Manager utility, which is essential since there is no actual LXLE community repository software that makes adding or removing PPAs convenient.
Bottom Line
LXLE is an easy-to-use, lightweight desktop Linux distribution. It is an ideal OS to run on poorly endowed or aging hardware.
If you want a fast, low-maintenance Linux distro that will run well on any level of hardware, you can not go wrong with LXLE Linux.
Want to Suggest a Review?
Is there a Linux software application or distro you'd like to suggest for review? Something you love or would like to get to know?
Pleaseemail your ideas to me, and I'll consider them for a future Linux Picks and Pans column.
And use the Talkback feature below to add your comments!