Lowe's on Tuesday announced that it soon will add two robots to the customer-service staff at one of its San Jose, California, stores.
Called "OSHbot," the robots will assist customers at the Lowe's-owned Orchard Supply Hardware store by directing them to specific products and providing real-time information about promotions and inventory.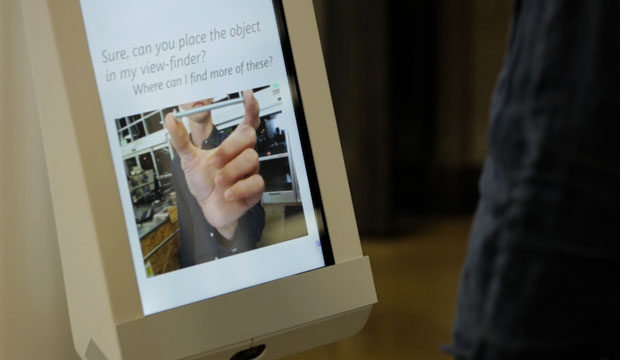 In the coming months, the robots will gain the ability to communicate with customers in multiple languages and remotely connect with expert employees at other Orchard stores to answer specific project questions.
The OSHbot was developed through a partnership between Lowe's Innovation Labs and Fellow Robots.
"Using science fiction prototyping, we explored solutions to improve customer experiences by helping customers quickly find the products and information they came in looking for," said Kyle Nel, executive director of Lowe's Innovation Labs.
"As a result, we developed autonomous retail service robot technology to be an intuitive tool customers can use to ask for help, in their preferred language, and expect a consistent experience," he added.
A 3D Sensing Camera
The OSHbot incorporates scanning technology first developed for the Lowe's Holoroom home-improvement simulator.
A customer can bring in a spare part and scan the object using OSHbot's 3D sensing camera, for instance. After scanning and identifying the object, OSHbot will offer the customer product information as well as guidance to its location on store shelves.
Store employees, meanwhile, will be freed up to focus on helping customers with project expertise, Lowe's said.
'This Is a Great Idea'
"I think there will be the usual nervous laughter at first and then people will very quickly get accustomed to the idea," said B2B social media strategistPaul Gillin.
"There have been some amazing leaps ahead in robot technology over the last few years," Gillin told CRM Buyer.
"We're already accustomed to interacting with semi-robotic devices such as grocery self-checkout kiosks and ATMs," he added. "The main difference is that they don't move or interact with us verbally."
It's been shown that most people actually would rather interact with machines than people, Gillin noted.
"Look at how successful self-service kiosks have been in almost every application," he said. "The idea of talking to a machine is still a little foreign, but I think people will get over that pretty quickly. Meanwhile, Lowe's gets to address one of its customers' greatest frustrations, which is the inability to find someone to help them. I think this is a great idea."
Better Have Backup
The OSHbot is a "great concept," customer service expert Shep Hyken told CRM Buyer.
However, "a robot at this stage can simply direct somebody to a spot in the aisle where the item is, but it can do nothing to ask what they're working on or suggest another product they might need," he said. "It's a missed opportunity."
Of course, "many customers will think this is really cool," Hyken predicted. "It's a neat technology, and it is the future, but it will need some refinement to meet customers' needs."
Perhaps most notably, stores that use robots had "better have really good backup for when the technology fails," he concluded. "That doesn't mean the robot broke — it just means the customer didn't get the answer he needed."