ListenLogic is moving into the social CRM sphere after building expertise with its two related offerings: a reputation management application that helps corporations identify threats before they reach crisis proportions, and a social market research and listening product.
"These were the jumping-off point for our latest product," said founder and CEO Mark Langsfeld, "our Enterprise Social CRM product."
The raison d'etre for ListenLogic Social CRM is to collect, prioritize and then respond to all social media content that is being generated about a particular company. While there are a growing number of applications that purport to do this, they are really only doing half the job, Langsfeld told CRM Buyer.
The Secret's in the Sampling
"The dirty secret in the monitoring world is that most applications sample — that is, they grab and process about 10 percent of related comments on Twitter, for example," explained Langsfeld. "This sample is then integrated into the product's dashboard for the customer to view."
It is understandable why an application might be programmed with that approach — a large company could well find itself having to comb through tens of thousands of global comments every day, he said. "They will spend 80 percent of their time shifting through what is not relevant to find that 5 percent of the comments that are relevant."
Triage, therefore, is necessary — but how to conduct that triage so nothing falls through the cracks is key.
The Right Mix
ListenLogic Social CRM, a Software as a Service application, uses the company's proprietary Integrated Social Intelligence Platform from its other products to collect the comments and feedback and requests that pepper the social media landscape.
These comments are then organized according to what business rules the company wants.
"It is an intelligent way to automatically categorize and prioritize the massive firehouse that is social media," Langsfeld said. "We are not taking a sample but the whole thing — and then triaging it based on what the company wants."
For example, a company might want to divide comments into three categories — requests for information, irate comments and service issues. Another might want to emphasize potential leads or general inquiries. ListenLogic has about 50 rules to help companies tailor the comments.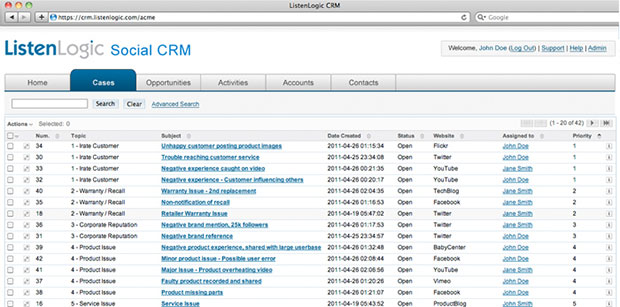 There is a human component as well, noted Langsfeld. "Let's say about 10 percent of the comments fall outside the rules. These need to be reviewed by a human, so we have analysts sitting on top of the tech stack to review questionable comments or posts to see how they should be handled."
The advantage to that, he said, is not just that it will prevent a post from being miscategorized or overlooked, but also that it better tweaks the system as time goes on.
"It is a self-optimizing workflow system," Langsfeld said.
To the Rep
At this point, the workflow — that is, the organized and prioritized stream of social media comments, posts and inquiries — is ready to be sent to reps for response.
"Ideally, that is how it should work," said Langsfeld. "The system categorizes everything and then sends it to the contact center where the CSRs do nothing but act on them."