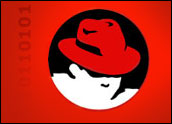 In what surely came as a blow to many Linux aficionados, Red Hat announced Wednesday that it will not develop a desktop implementation of the operating system for the consumer market anytime soon.
"We have no plans to create a traditional desktop product for the consumer market in the foreseeable future," the company wrote in a post on its blog, citing market pressures as its reason.
"The desktop market suffers from having one dominant vendor, and some people still perceive that today's Linux desktops simply don't provide a practical alternative," the company explained. "Building a sustainable business around the Linux desktop is tough, and history is littered with example efforts that have either failed outright, are stalled or are run as charities."
Alternate Focus
Red Hat is one of the largest distributors of commercial Linux implementations, though it faces many competitors, including Mandriva, Ubuntu and Linspire.
Indeed, "technical developments that have become available over the past year or two are accelerating the spread of the Linux Desktop," Red Hat said.
Rather than working on a traditional desktop implementation, however, Red Hat plans to focus its desktop attention on Enterprise Desktop Linux, Fedora and Red Hat Global desktop over the course of 2008 and 2009, the company said.
"This is probably a good move," Gerhard Mack, a Montreal-based consultant and Slashdot blogger, told LinuxInsider. "It makes sense for them to concentrate on what they're good at and leave the bleeding edge for people willing to take that risk."
'Chicken and Egg Proposition'
Linux is doing "extremely well" at the foundation level with its server operating systems, Laura DiDio, an analyst with Yankee Group, told LinuxInsider. "It has matured and really come of age, it is reliable, and it offers great performance," she said.
On the desktop, however, "it's more of a user-dictated phenomenon," DiDio added. "At the application level, users need a reason to switch, and the fact of the matter is, on the desktop it's either a Windows world or a Mac world. Why should users switch if they like what they have?"
The lifeblood of the desktop operating system is going to be the third-party applications that are written for the desktop platform, she added.
"If you're a Linux or open source vendor, you've got to time the market exactly — you don't want to be too far ahead and you don't want to be behind," she explained. "It's a chicken and egg proposition."
Hybrid Approach
Third-party application developers only have finite money for research and development, she added, "so they have to really pick and choose. Before they decide to allocate development dollars and manpower resources to building an application for a particular platform such as Linux on the desktop, they have to make sure there's demand."
What's common these days among application developers is a hybrid approach, in which they build applications that can run on a Linux server but offer the same look and feel as Microsoft products at a lower cost, DiDio noted.
"I'm not anti-Linux by any means, but I do think Linux on the desktop is still very much a niche market because of the entrenched application landscape for both Microsoft and Macintosh," DiDio concluded. "I don't think Linux on the desktop is dead, I just don't think it's going to have the same level of adoption and success in the near term as server-based Linux.
"It's a really tough market right now," she said. "I think Red Hat's decision was a purely economic one."
'I'm Not Totally Shocked'
Red Hat has already diverted some of its focus and attention from Fedora, its community Linux, so "I'm not totally shocked" by this announcement, Jay Lyman, an analyst with the 451 group, told LinuxInsider. "This isn't the first time they've said, 'we're really not that interested in the desktop.'"
However, is the market really too tough?
"Look at Ubuntu, which has continued to lead in desktop Linux," Lyman pointed out. "They've done it by making Linux easier and sexier, while Fedora is much more technically and server oriented. It doesn't have the same consumer and mainstream appeal."
In addition, a number of market factors now at work may actually improve the market for desktop Linux, he added.
Smaller Devices
"Just watch the subnotebook and netbook category, because I think that's a huge boon for Linux," he explained. "It was significant last year when Ubuntu got preinstalled on some Dell computers, but I think in the long run these smaller devices will be even more significant."
The trouble Microsoft Vista is having could also spur enterprises to look more closely at the idea of switching to Linux, Lyman added.
Looking forward, then, "I think it's going to be a long haul for Linux," Lyman concluded, "but with these other categories of devices and the enterprise opportunity because of Vista, there are a few things here that are going to change how tough it is."