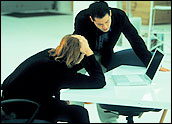 By acting as a performance center of excellence, American International Group's Global Performance Architecture Group has improved performance of the company's services to deliver better experiences and payoffs for businesses and end users alike.
The group looks at the user experience and tailors the company's technology to maximize customer satisfaction and utility.
Additionally, it results in better innovation, more efficient data management and higher return on investment for AIG.
Listen to a podcast featuring Abe Naguib, senior director of AIG's Global Performance Architecture Group and cohosted by HP Chief Software Evangelist Paul Muller and Dana Gardner.
---

Download the podcast (31:31 minutes) or use the player:
---
Here are some excerpts:
Dana Gardner: Many organizations are now focusing more on the user experience and the business benefits and less on pure technology — and for many, it's a challenge. From a very high level, how do you perceive the best way to go about a cultural shift, or an organizational shift, from a technology focus more toward this end-user experience focus?
Abe Naguib: There are several paradigms involved from the COO and CFO's push on innovation and efficiency. A lot of the tooling that we use, a lot of the products we use, help to fully diversify and resolve some of the challenges we have. That's to keep change running.
The CIO has to keep his eye forward to periodically change tracks, ensuring that the customers are getting the best value for their money. That's a tall order, and he has to predict benefit, gauge value, maintain integrity, socialize, and evolve the strategy of business ideas on how technology should run.
We have to manage quite a few challenges from the demand of operating a global franchise. Our COE looks at various levels of optimization and one key target is customer service, and factors that drive the value chain.
That's aligning DevOps to business, reducing data-center sprawl, validating and making sense of vendors, products, and services, increasing the return on investment (ROI) and total cost of ownership (TCO) of emerging technologies, economy of scale, improving services and hybrid cloud systems, as we isolate and identify the cascading impacts on systems. These efforts help to derive value across the chain and eventually help improve customer value.
Gardner: Paul Muller, does this jibe with what you're seeing in the field? Do you see an emphasis that's more on this sort of process level, when it comes to IT with of course more input from folks like the COO and the chief financial officer?
Paul Muller: As I was listening to Abe's description I was thinking that you really can tell the culture of an organization by the level of initiatives and thinking that it has. In fact, you can't change one without changing the other. What I've just described is a very high level of cultural maturity.
We do see it, but we see it in maybe 10 to 15 percent of organization that have gone through the early stages of understanding the performance and quality of applications, optimizing it for cost and performance, but then moving through to the next stage, reevaluating the entire chain, and looking to take a broader perspective with lots of user experience. So it's not unique, but it's certainly used among the more mature in terms of observational thinking.
Gardner: Tell us about AIG, its breadth, and particularly the business requirements that your Global Performance Architecture Group is tasked with meeting.
Naguib: AIG is a leading international insurance organization, across 130 countries. AIG's companies serving commercial, institutional, individual customers, through one of the world's most extensive property/casualty networks, are leading providers of life insurance and retirement services in the U.S.
Among the brand pillars that we focused on are integrity, innovation, and market agility across the variety of products that we offer, as well as customer service.
With AIG's mantra of "better, faster, cheaper," my organization's people, strategy, and comprehensive tools help us to bridge these gaps that a global firm faces today. There are many technology objectives across different organizations that we align, and we utilize various HP solutions to drive our objectives, which is getting the various IT delivery pistons firing in the same direction and at the right time.
These include performance, application lifecycle management (ALM), and business service management (BSM), as well as project and portfolio management (PPM). Over time our Global Performance organization has evolved, and our senior manager realized our strategic benefit and capability to reduce cost, risk, and mitigate production and risk.
Our role eventually moved out of quality assurance's functional testing area to focus on emphasizing application performance, architecture design patterns, emerging technologies, infrastructure and consolidation strategies, and risk mitigation, as well increasing ROI and economy of scale. With the right people, process, and tools, our organization enabled IT transparency and application tuning, reduced infrastructure consumption, and accelerated resolution of any system performances in dev and production.
The key is bringing together our business-critical and strategic drivers across IT's various segments fosters alignment, agility, and eventually unity. Now, our leaders seek our guidance to help tune IT at some degree of financial performance to unlock optimal business value.
Gardner: Is that a pattern you're seeing, that the people in QA are in the sense breaking out of just an application performance level and moving more into what we could call IT performance level?
Naguib: In the last six or seven years, there's less focus on just basic performance optimization. The focus is now on business strategy impact on infrastructure CAPEX, and OPEX. Correlating business use cases to impact on infrastructure is the golden grail.
Once you start communicating to CIOs the impact of a system and the cost of hosting, licensing, headcount, service sprawl, branding, and services that depend on each other, we're more aligning DevOps with business.
Muller: I just had a conversation not three weeks ago with a financial institution in another part of the world. I asked who is responsible for your end-to-end business process — in this case I think it was mortgage origination — and the entire room looked at each other, laughed, and said "We don't know."
So you've really got this massive gap in terms of not just IT process maturity, but you also have business-process maturity, and it's very challenging, in my experience, to have one without having the other.