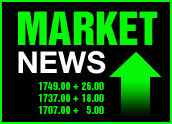 A surge in job growth in February helped spark a rally on Wall Street today that pushed the Dow Jones industrial average and the S&P to their highest closing prices in more than three years.
The February jobs report from the Labor Department showed the country added 262,000 positions last month, with gains coming in a range of fields, including manufacturing, retail and health care. The job creation came without a corresponding rise in hourly wages, leading investors to bet that growth can be sustained without inflation.
Jobless Rate Up
Despite the fact that the jobless rate actually climbed to 5.4 percent as more discouraged job seekers re-entered the employment market, the report was enough to start a stock rally that picked up steam as the day progressed.
By the close, the Dow was up 107.52, or 0.99 percent, to close at 10,940.55, its highest closing price since June of 2001. The Nasdaq rose 12.21 points, or 0.59 percent, to 2,070.61. The S&P, also at its highest levels in more than three years, finished at 1,222.12, up 11.65, or 0.96 percent for the session.
For the week, the Dow was up 0.98 percent, the S&P higher by 0.89 percent and the Nasdaq tacked on 0.25 percent. Bullish investors are hoping the Dow can break through the 11,000 barrier, which last happened in the summer of 2001.
Oil Up
The rally held together despite a rise in oil prices, which have eased off recent highs that took it near record levels.
In New York trading today, crude futures rose 21 cents to $53.78 a barrel. Futures were sharply lower during the trading session on news that some members of OPEC were said to be open to increasing output in an effort to lower prices.
Overseas investors were less bullish about the jobs report, with the dollar falling against both the euro and yen.