The Kickstarter campaign for Poppy, the retro-looking device that promises to turn an iPhone into a 3D camera and image-viewer, is quickly gaining popularity in the tech community. It hit its US$40,000 Kickstarter goal in about nine hours. By Friday afternoon it had commitments for nearly $87,000, with 27 campaign days remaining.
Creators Joe Heitzeberg and Ethan Lowry modeled Poppy after the 70-year-old View-Master, and its design resembles the latest version of the popular toy. Instead of image reels, however, Poppy users can slide in an iPhone and use it to record 3D photos and videos, or view 3D content on YouTube or elsewhere.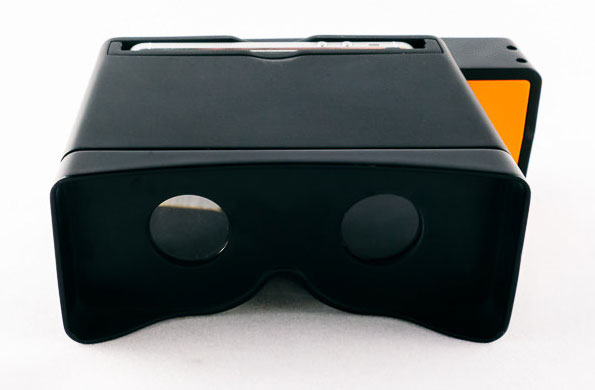 Poppy doesn't use electronics or batteries to function. Instead, once the iPhone is in place, a user looks at the screen through dual lenses that allow a stereographic view. Using the phone's camera, Poppy's mirrors capture those two stereographic images and merge them.
Because of the way the mirrors are positioned on the device, Poppy is currently compatible only with the iPhone 4 or higher, or the fifth generation iPod touch. That could change in the future, however.
Kickstarter backers who donate $49 will receive a Poppy when it debuts, which the designers said should be in time for the holiday rush in December 2013. Heitzeberg and Lowry said they were encouraged by the positive response, and were working on ways to utilize the extra cash.
"We are hopeful, and we think it is taking off," Heitzeberg told TechNewsWorld. "We're expanding production and working on new features and options that we'll be posting as stretch goals in the coming days. One thing we're investigating is to offer Poppy in other colors."
Creativity With 3D
Poppy's developers are also hopeful that 3D photography and videography will reach a market that is more receptive to the technology than it has so far been to 3D TV, said Heitzeberg.
"3D television has not taken off because it's expensive and, more importantly, it doesn't help people to be creative," he noted. "With Poppy, we're giving people an all-in-one experience — create, view and share — so that people can capture, share and experience their and their friends' worlds in this immersive, three-dimensional experience — and the low price makes it accessible to everyone."
The price isn't the only thing that makes Poppy accessible, said Ross Rubin, principal analyst at Reticle Research. Several devices already exist for consumers to shoot 3D images, but they are typically large dedicated devices.
"In contrast, the Poppy works with a product millions of people already have," Rubin told TechNewsWorld. "Given its size and the way one must hold it up to watch content, it's more of a novelty item, but it's priced like one. As the creators note, it was inspired by the View-Master toy. It's not too big a bet to capture some memories that might one day find a more convenient path to playback."
Expanding 3D Market
There is still plenty of room for the mainstream 3D photo and video technology market to grow, said Hans Hartman, president of Suite 48 Analytics.
"The idea to combine multiple images into a single richer one, in this case 3D, has certainly resonated with mobile photographers," Hartman told TechNewsWorld.
"Until 3D photography developers could create something ingenious that leverages built-in hardware functionality, I fear 3D photography will remain a niche market for a while," he said. "It might be a better approach to build 3D photo-taking and viewing functionality into digital single-lens reflex cameras, which increasingly also have smartphone-type of screens for viewing photos."
That kind of technology is working its way to the market, said Al Caudullo, 3D television analyst at 3DGuy.tv.
3D entrepreneurs increasingly are realizing that they can't claim their technology is the hottest innovation to hit the tech scene, which is what many attempted to do with 3D TV. Instead, vendors recognize that designing smaller products that utilize 3D photo and video on the consumer level — like the Poppy — could be the key to making 3D technology a common tech feature.
"Like all of our media devices, 3D is in a state of constant evolution," Caudullo told TechNewsWorld. "The search is ongoing for the one device that captures the public's eye and pocket. If the right device comes along, I think that 3D photography could be the next thing — but it has to be easy for the public to do and view. I give Poppy a big thumbs up."