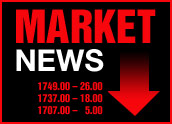 Wall Street tried to put on a happy face Friday — with some investors buoyed by a stronger jobs creation number for August — but pessimism won out in the last session before the long Labor Day weekend.
The Labor Department said 144,000 jobs were created in August, that the unemployment rate fell one tenth of a point to 5.4 percent and that 59,000 more jobs were created in June and July than previously reported.
Bad news from Intel, however, weighed on the markets. Intel, a Dow component, was down more than 7 percent on the session and dragged down many tech stocks with it, which amplified the impact on the Nasdaq.
The Dow traded higher most of the day, boosted by the jobs data, but fell back into negative territory in late trading and closed there along with the other major averages.
At the closing bell, the Dow was down 30.08 to 10,260.20. The Nasdaq, the day's biggest loser on a percentage basis, had fallen 28.95, or 1.55 percent, to 1,844.48.
The S&P 500 lost 4.68 points to end the week at 1,113.63. The Dow was up slightly on the week, but the Nasdaq fell a full percent, ending two straight weeks of gains.
Market watchers are predicting a return to more normal volumes and market activity next week now that the Republican National Convention has left New York City and with the Labor Day holiday marking the unofficial end of summer.
That will likely mean more attention to the volatile oil futures market. Oil prices moved above $45 again Friday before stabilizing, as concern was again raised about attacks on Iraqi pipelines and Yukos' ability to continue to export oil from Russia.