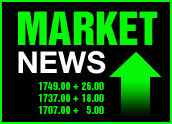 Stocks rose today but finished well below their high levels for the day as the latest bout of merger fever was tempered by inflation fears and a rebound in oil prices.
The Dow finished higher by 61.92 points, or 0.59 percent, at 10,549.57. The Nasdaq climbed 21.06, or 1.01 percent, to 2,099.68 and the S&P 500 rose 6.51 points, the equivalent of 0.55 percent, to finish at 1181.94.
Early in the day, news of the US$11 billion merger of Sears and Kmart, just the latest in a series of mega-mergers in recent weeks, helped drive stocks higher.
Analysts say such mergers — other recent examples including AT&T and Cingular joining in a $41 billion deal and Dow Jones' $520 million purchase of MarketWatch — spur investors by suggesting companies are actively pursuing all avenues for sales and profit growth.
Inflation Data
That enthusiasm was tempered somewhat today when the Labor Department reported that the Consumer Price Index (CPI) rose 0.6 percent in October, the biggest increase since June and one that came largely as a result of higher fuel prices.
The latest inflation data — the wholesale rate, announced yesterday, showed the prices producers of goods pay rose even faster — seems to all but guarantee a fifth interest rate hike from the Federal Reserve Board when policy makers convene on December 14.
Though the core inflation rate, excluding fuel and food costs, rose just 0.2 percent, the rate and other economic news seemed to suggest an economy that was gaining steam again. The Federal Reserve reported that industrial production rose in October by 0.7 percent and the Commerce Department chimed in with a report showing that housing construction jumped 6.4 percent last month to an annual rate of 2.03 million units, the highest this year.
Oil and Earnings
Also weighing on the markets was a rebound in crude oil prices, which moved higher by 73 cents, to close at $46.84 per barrel in New York trading. The rise came after the Energy Department reported lower stores of distillate fuel, which included home heating oil, for the ninth straight week, while crude oil stockpiles moved slightly higher.
On the earnings front, shares of computer make Hewlett-Packard were up 3.5 percent after it reported a strong quarterly performance that saw most of its business units post higher sales and an overall 26 percent increase in profits.