For a glimpse at the future of gaming control, there are few places better to look than iMotion.
Intellect Motion's concept is to create a large, motion-sensitive area in front of you while you're gaming — a kind of invisible, virtual touchscreen. Handheld controllers then interact with that touchscreen.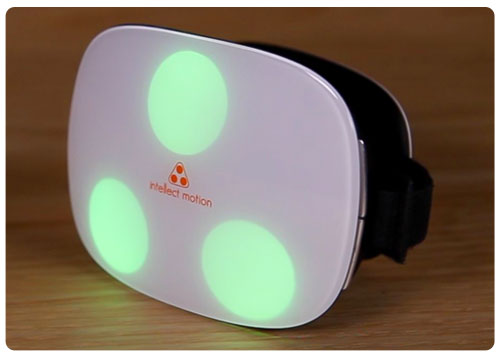 A movement of your hands controls the game, and haptic feedback provides feel. The developer describes the effect as similar to how a character in a science-fiction film might control a floating interface with a flick of his hands.
Where iMotion takes 3D motion game control beyond Kinect — Microsoft's full-body gaming control and a current gaming control standard — and onto the next level is, first, that it implements haptic feedback; and second, it could be used across platforms as well as in virtual reality applications — assuming Intellect Motion gets it right.
What Is It?
Two strap-on, glove-like controllers affix to the hands with hook-and-loop fasteners. Then three LED lights on each controller communicate with any PC-attached webcam and calculate the body's position in 3D.
The system calculates not only "x" and "y" but also the angle of rotation and plane of elevation through the use of a gyroscope and accelerometer — the sensors seen in smartphones — alongside the LED's transmitters. Bluetooth is used to provide haptic signals.
Tagline: "3D Motion Controller with Haptic Feedback."
Technical Details
Functional range is from one to 16 feet. The device functions at 30 frames per second. Applications operating at 100 frames per second are supported. Five feedback channels can alter intensity and duration of the feedback.
Four iMotions are supported per screen, so multiplayer games work.
An iMotion SDK and a Virtual Hands SDK for the VR Oculus Rift headset will be available as well.
The Numbers
On Kickstarter, Singapore-based Intellect Motion currently has more than 410 backers pledging more than US$37,000 of a $100,000 goal. The funding period ends on Oct. 27.
A pledge of $59 gets you an early-bird iMotion controller. A pledge of $229 gets you a four-iMotion family pack, plus the SDK kit early.
The estimated shipping date is March 2014.
The Upsides
There are numerous killer features coming into play here, in our opinion. Not least is that the device can control any game and any computer that can be controlled with a keyboard and mouse and has a webcam. The price point, meanwhile, might be around the $50 mark, the developer suggests, placing the device within reach of many holiday gift shoppers.
If, as the creator says, pinpoint accuracy of 0.08-inches and low latency of 10- to 20-milliseconds is obtainable, and the thing actually works, this could be a must-have product for any gamer.
The Downsides
It's possible latency may be an issue in this device. Clearly that won't just be dependent on sensor-to-webcam, which the creator has control over, but on middleware at the PC and between webcam and PC and Bluetooth radio and device.
We hope that the creator is clear with adopters about how much processor power and the like will be required. Best results, for example, will be with high-end cameras.
The Conclusion
We look forward to hearing how developers get on with the SDK if it's released, and whether they come up with applications that the creator hasn't even thought of.
At this price point, those with physical disabilities could benefit too for tasks such as general interfacing with the PC — the sensors can be strapped to any part of the body, not just hands.