IBM on Tuesday announced Watson Analytics, a natural language-based cognitive service designed to provide businesses with instant access to powerful predictive and visual analytics tools.
It runs on desktop PCs and mobile devices.
Some features will be offered to beta testers within 30 days. IBM later this year will offer a variety of Watson Analytics freemium and premium packages.
Watson Analytics offers self-service analytics including data refinement and data warehousing services.
It automates data preparation, predictive analysis, and visual storytelling for business professionals in data-intensive areas such as marketing, sales, operations, finance and human resources.
"Watson allows companies to get the benefits from their data more quickly and effectively with fewer skills," Rob Enderle, principal analyst at the Enderle Group, told the E-Commerce Times. "I think we'll see a lot of market positions shift once this offering matures."
Elementary, My Dear Fellow
Three key innovations let users more easily engage in advanced analytics, said IBM.
Watson Analytics seamlessly brings together various self-service enterprise data and analytics capabilities on the cloud; it uses predictive analytics to bring up key relevant facts and uncover unexpected patterns and relationships; and its use of natural language makes it user-friendly.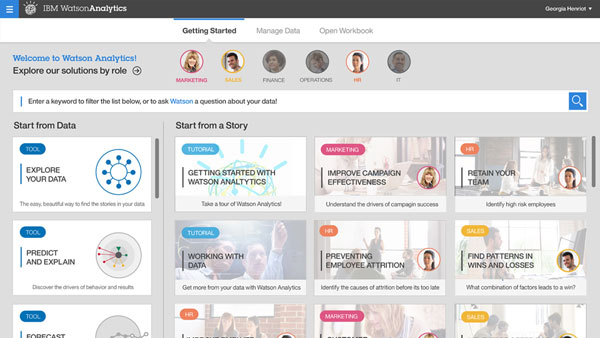 "The goal for IBM is to enable and encourage the use of sophisticated analytics while lowering the technical barriers," Charles King, principal analyst at Pund-IT, told the E-Commerce Times.
At best, Watson Analytics "will provide executives greater insight into their organizations and provide the background information necessary to fine-tune processes and strategies, helping ensure greater success," he said.
Watson Analytics reportedly can take in data from various back ends, including Google Docs, Oracle, Box and Salesforce.
"If executives can't use tools because they are difficult, the tools are worthless," Enderle noted. "Watson is the only platform designed from the ground up to be a tool executives could use, because it's intelligent."
Killing Competitors by the Numbers
Competitors such as Oracle and SAP, which offer their own business analytics features, may be at a disadvantage, Enderle said, because Watson's natural language feature "suggests faster time to benefit and a far less daunting learning curve, so the quality of the result should be higher."
Watson also "creates a relatively high bar for smaller players that can't fund their projects to IBM levels," Enderle pointed out, such as Splunk and Birst.
Salesforce reportedly is planning its own business analytics tool, but Watson "will make Salesforce's coming platform obsolete if [it's] as successful as I think it will be," Enderle predicted.
Going Mobile
Mobile devs may have responded to IBM's February call to create apps for Watson Analytics.
The tool also will play off IBM's partnership with Apple, announced in July, which will see Big Blue pushing iDevices into the enterprise.
Organizations that adopt Apple products going forward will benefit from having more enterprise-ready apps available, Jeff Orr, a practice director at ABI Research, told the E-Commerce Times.
Possible Issues With Watson Analytics
Users of Watson Analytics may not save as much on scut work as IBM promises.
Data prep takes 60-80 percent of the time involved in data mining. However, that's not necessarily true for advanced analytics, which rarely needs the full spectrum of data prep, as that might reduce the data's analytic value.
Further, the querying and analysis process may not go as well as depicted.
"Being able to take a brand new set of data, put it into the analytics tool, and launch queries against it is a huge piece of magic," Orr said. "I'm a little skeptical, because my experiences have not been that smooth."
Watson Analytics "is likely going to be an incremental tool," he suggested, "that requires people who know what types of questions to ask and how to phrase them."