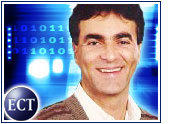 Though some smaller databases (notably Sybase) are excellent products, IBM's DB2, Oracle's 9i and Microsoft's SQL Server are clearly the big three.
The giants offering these systems are constantly jockeying for the crown of premier provider. In fact, some would say they are locked in a death battle for dominance of the database market space. Over the years, the capabilities and features of offerings from these once disparate vendors have blurred, making the database selection process increasingly complicated.
Keeping It Simple
But if CIOs pondering a database decision were to recast the debate in simpler terms — that is, considering the vendors that take a federated, or decentralized, approach to data management versus those that offer centralized technology — the selection process could become much easier.
"IBM believes integrating information using a federated approach is best suited to enterprises' needs today," said Nelson Mattos, distinguished engineer and director of information integration at IBM, in an interview with CRM Buyer Magazine. "It does not require customers to predict what kind of information they will need in the future … and it allows them to maintain the information in the platforms and systems they have, leveraging existing infrastructure."
This debate "will be a competitive differentiator for all these companies going forward," Mattos said.
Practical Terms
In practical terms, this approach can have a huge impact on the services and information a company can provide its internal users and external customers. For example, consider a financial services firm whose high net-worth clients want to see the current value of all their assets in real-time.
"Using federated technology, the firm can access the value of a particular portfolio in real-time," Mattos explained, "based on stock-market values at the very moment." With a centralized approach, the user would have to predict what questions might be asked and move the relevant data into a centralized repository, he said.
"It can be difficult to maintain that data in real-time using that approach; probably it will be yesterday's portfolio value, which is not good enough if a client wants to make, say, a large stock purchase."
To Market, To Market
Another example that illustrates the two approaches is a pharmaceutical company's drug discovery process, a very complex series of steps that entails analyzing results from lab experiments, pulling together information about certain chemical components, and accessing outside sources — such as university research and government databases — that contain information about drug approvals and pending patents.
"If the company can access that information in real-time and take the latest of that information, it will be able to develop conclusions that much quicker and get drugs to market that much sooner," Mattos said. "We have some customers using our technology this way, and they have been able to reduce the time to market because of this ability to access information on demand."
Third Generation
Information integration has been a key area of focus for IBM for several years, Mattos said, and it is currently part of IBM's new On Demand initiative.
In 1995, IBM rolled out a product that allowed customers to integrate relational data in real-time. The second generation of this technology was IBM's enterprise information portal, which focused on integrating unstructured data, such as tax documents, images, audio and data found in the Web. Mattos said it allowed an application or customer to issue a query and find all the related documents.
Now IBM is bringing together those capabilities in its third generation of products in this space, which are expected to become available in the first quarter of this year. "We will be joining the world of structured or relational data with unstructured data and the ability to access data beyond the enterprise," Mattos said.