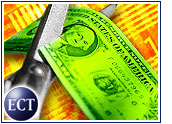 i2 Technologies (Nasdaq: ITWO) fell US$4.13 to$31.38 in morning trading Tuesday after reports said the software maker waspartly responsible for problems at footwear company Nike (NYSE: NKE).
In addition, Goldman Sachs was said to have cut earnings expectations fori2, along with other software developers.
After the close of trading Monday, Nike said it expects earnings for thethird quarter ending February 28th to be 34 to 38 cents per share, wellbelow previous expectations of 60 to 65 cents.
Nike chairman and chief executive officer Philip Knight blamed the shortfallon weak revenue from the company's U.S. footwear operations.
"During thequarter, we also experienced complications arising from the impact ofimplementing our new demand and supply planning systems and processes, whichresulted in product shortages and excesses as well as late deliveries,"Knight said.
News reports identified i2 as the provider of Nike's new software system,which was reported to have cost $400 million. In its news release, Nike didnot identify the supplier, and i2 officials were not immediately availableto comment.
I2 makes software that helps companies do business over the Internet. Thecompany beatanalyst estimates when it reported results for the fourth quarterended December 31st.
Revenue for the quarter climbed 116 percent from a yearearlier, to $378 million, with income before extraordinary items rising to9 cents per share from 5 cents.
After all items, however, the company reported a net loss of $727 million,or $1.80 per share, compared with net income of $15 million, or 4 cents, inthe fourth quarter a year earlier.
I2 chairman and chief executive officer Sanjiv Sidhu said in announcing theresults that the company had not seen a slowdown in business, and ispositioned to "improve competitiveness even during slower economic growth."
Gruntal & Co. reportedly reiterated an outperform rating on i2 shares earlyTuesday.