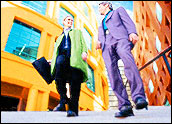 Taking aim at a greater slice of the corporate computing pie, Hewlett-Packard and Microsoft said Wednesday they would join forces on a three-year, US$300 million effort to sell more software and service solutions to large enterprises where common rival IBM is a strong player.
The two companies said the new effort would build on their past cooperation, which stretches back some 20 years. Together, the companies will work together to develop, test and deploy new solutions and to market those programs. The effort is built around Microsoft's People Ready Business push.
Best of Both Worlds
Microsoft launched that marketing effort in March with a promise of a $500 million investment. The result has been several heavily played television commercials and supporting ads in other media, all aimed at underscoring what Microsoft's lineup of productivity products can do for businesses.
Microsoft COO Kevin Turner said the two companies share about 20,000 joint customers already, and they and others will now "have access to an expanded set of solutions and services to tackle their most pressing business problems."
Turner also said some 30 new products would be rolled out that are designed to better integrate productivity and communications tools for end-users with software running large corporate networks — one of HP's specialty areas.
HP Group President Ann Livermore, who oversees the enterprise-focused Technology Solution unit, said HP already uses many of the People Ready solutions.
"Extending our strategic alliance with Microsoft further strengthens HP's enterprise strategy, which is focused on empowering CIOs to align IT with business by delivering more cost-effective, scalable, secure ways of enhancing employee productivity," she added.
The overall goal of the alliance is to offer businesses more choices and more flexibility in their technology decisions, the companies said. The partnership will focus primarily on five areas: messaging and unified communications; collaboration and content management; business intelligence; business process integration; and core infrastructure.
Bigger than Big Blue?
With its most recent quarterly and annual sales reports, HP vaulted ahead of IBM to become the largest U.S. company in terms of total technology and services sold.
IBM, meanwhile, is well into its own effort to change the way businesses buy its technology solutions. Known as Business On Demand, the solution focuses heavily on hosted software and other techniques designed to give businesses more flexibility and enable them to buy only the technology they need.
The Microsoft-HP alliance is designed to create more "complete solutions," something that businesses are eager for as buying from fewer vendors often means less integration headaches and costs, according to IDC Chief Research Officer John Gantz.
The companies are targeting a huge market. "Just the software markets alone in business intelligence, collaboration, content management and infrastructure software running on Windows will be a $49 billion market in 2007," he declared. With communications, hardware, and services factored in, the market opportunity grows to more than $100 billion.
As part of the alliance, HP will train approximately 22,000 of the technology consultants in its services unit in how to maximize the value of Microsoft tools. HP will also create training programs for People Ready solutions.
Borrowing a Model
Microsoft believes Vista and Office 2007 form the foundation of a set of software tools that will greatly improve the productivity of so-called knowledge workers. It launched People Ready earlier this year to capitalize on the launch of those products, which has since been delayed.
This week, HP said it did not expect a major surge of PC sales related to Vista upgrades, at least not right away. Vista is expected to be widely available early in 2007.
The alliance reflects the fact that most of the software that businesses buy today involves some commitment to technology services to make it work, Enderle Group Principal Analyst Rob Enderle said. In that sense, Microsoft could help drive business to HP's large consulting arm.
"Microsoft has historically used the elimination of labor cost as a core benefit to their platforms," Enderle told the E-Commerce Times. The People Ready campaign was meant to emphasize the ease of using Microsoft tools, while the partnership with HP is meant to highlight that the software can enable even bigger changes within a business.
"In a way, much of the industry, and particularly IBM, is using software as kind of the free razor to drive a very expensive service model," Enderle concluded.