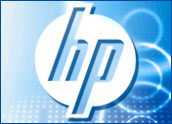 Hewlett-Packard posted first-quarter results Tuesday that featured a 26 percent jump in earnings amid strong sales of PCs, enterprise computer gear and printers.
Earnings were US$1.5 billion for the quarter compared to $1.2 billion in the year-ago period, with sales up 11 percent year-over-year to $25.1 billion.
HP cited strong sales of computers, particularly notebooks, which clocked in with 40 percent growth, and in its printer unit, with hardware sales up 2 percent and printer supplies, such as ink, up 11 percent.
"HP delivered a strong first quarter," said CEO Mark Hurd. "We have a lot of work and opportunities ahead of us. I am confident we can continue to execute with discipline and deliver a year of strong financial returns."
Advantage, HP
The earnings report may also suggest HP is taking advantage of relative weakness at top rival Dell, which is in the midst of a push to revamp operations after founder Michael Dell re-took the helm as CEO last month.
HP's share of the PC market grew in the fourth quarter from about 16 percent in Q4 2005 to 18 percent, with much of the gain coming at the expense of Dell, which saw its share fall to 15 percent from 17.5 percent last year, according to IDC analyst Loren Loverde.
"HP clearly was able to capitalize on a challenging market situation in the quarter," Loverde said.
HP's outlook was robust as well, with the company predicting current quarter sales of about $24.5 billion. In addition, sales for all of 2008 could come close to the $100 billion level, the company said.
Despite the good news, HP shares took a hit in morning trading Wednesday, trading lower by nearly 3 percent to $41.89. The stock has seen a strong run up since the end of 2006.
The company's gains in PC market share came without giving up profits, claimed a pleased Hurd during a conference call. "I'm particularly pleased we achieved these share gains while posting record operating margins," he said.
Outside of PCs and printers, HP reported steady growth in other business lines. For example, its enterprise storage and servers unit had sales of $4.5 billion, up 5 percent on a year-over-year basis — the unit was also slightly more profitable than during the prior year.
HP's service unit also posted growth, with revenue up 5 percent to $3.9 billion. The bulk of that growth came from the consulting and integration area, which posted a 10 percent bump in revenue.
The company's relatively small software business also posted impressive growth numbers, with sales up 81 percent to $550 million, though much of that was tied to HP's purchase of Mercury Interactive. HP plans to combine Mercury's IT management software with its existing OpenView line to form a business technology optimization (BTO) suite of solutions.
Hurd Mentality
The turnaround at HP is the result of "operational efficiency, a very strong executive team and massive focus on the fundamentals," Enderle Group Principal Analyst Rob Enderle told the E-Commerce Times.
"In short, they have a CEO and an executive team doing their jobs and not the jobs of others. [They] are focused on the business rather than their own compensation, which, you have to admit, is refreshing," Enderle said. "In many ways, it was simply the case of getting a CEO who had the perfect skill set for the problems HP had — coupled with a very timely resurgence of the consumer market."
HP has already reaped the majority of the cost-cutting benefits from Hurd's plan, which has included layoffs and internal restructuring, requiring that it turn to growing sales to keep results at or ahead of expectations.
"I think HP owns this year," Enderle added. "We'll see Dell strengthen towards the end and then it will be a fight in 2008."
HP also announced plans to modify its retirement program and to give employees a chance to take early retirement. Employees who don't take the retirement option will be enrolled in a 401(k) matching program that will save HP money in the long run. Though it would save $500 million by converting the pension program, the company also said much of that would be set aside to cover costs of the early retirement plan.