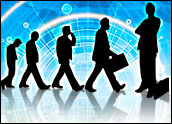 These days, I'm often asked about the health of the technology sector. Granted, some people say the economy of the San Francisco Bay Area doesn't reflect the rest of the country, but indications point to the fact that technology industries appear to be relatively unscathed by the economic downturn.
The Silicon Valley Index, published earlier this year, noted that population in the region grew in 2007 for the third consecutive year and jobs were added at a faster rate than all of California. A more recent survey released this April by San Jose State University's Survey & Policy Research Institute, found Silicon Valley consumer sentiment rose over the past 12 months, overtaking national numbers.
To be sure, entrepreneurs who might have gone to the public markets for capital are being more cautious. Only five companies backed by VC funds went public during the first quarter of this year, down from 31 in the fourth quarter of 2007, reported the National Venture Capital Association. Stock prices — reflecting the volatile energy markets — have fallen for some of the valley's blue chip companies.
A Need for Talent
However, these appear to be bumps rather than roadblocks, and technology companies and investors are adjusting accordingly. The dried-up market for startups is shifting attention to existing companies.
Executives are spending time nurturing their businesses and figuring out how they can leverage their core competencies for expansion. We've seen some prime examples of merger-and-acquisition activity lately, notably HP buying EDS and Google purchasing DoubleClick.
With steady investment comes a need for talent. As companies merge, they typically take a hard look at their senior management, deciding who is critical to the company's long-term success. A merger may inspire executives to look around and competitors to eye the best and the brightest. Even during the last recession, we still saw movement within the most senior ranks. While the risk/reward equation during the recession caused most executives to think long and hard before making a transition, the most accomplished executives still kept their eyes and ears open to new opportunities.
The Cost of Losing Top Talent
More and more companies are only now realizing that, while talent acquisition strategies are important, talent retention is at least as — if not more — critical to a company's long-term success.
The organizational cost of losing executive talent is well-documented. In Assimilating New Leaders: The Key to Executive Retention, Diane Downey, Tom March and Adena Berkman explore the direct and indirect costs to an organization relative to replacing an executive. They highlight research conducted by Sibson in four industries prone to executive job-hopping, that found "employee turnover replacement costs have reduced earnings and stock prices by an average of 38 percent. This estimated financial cost of replacing a new employee would have to be multiplied at least threefold to begin to understand the cost and impact of replacing a new leader who has failed or left an organization."
The authors go on to outline the indirect costs of executive turnover, which "affects an organization's competitive position not only because it creates a leadership vacuum but also because it:
Triggers turnover at other levels throughout the organization.
Creates a loss of intellectual and developmental resources.
Disrupts and weakens customer relationships."
Above and beyond competitive financial incentives, benefits packages and legal restrictions, what measures can a company take to hold on to its most talented executives? Over the course of my 12-plus years as an executive recruiter, I have noticed that even a well-compensated executive will consider greener pastures if he or she feels lack of professional fulfillment, or perceives a low likelihood of advancement through the organizational ranks. These highly talented yet mildly to moderately dissatisfied executives are a recruiter's dream — low-hanging fruit, ripe for the picking when presented with exciting, new opportunities.
Of course, it is not always possible for a company to offer high-potential executives a steady stream of promotions to keep them feeling engaged and fulfilled. In fact, more the opposite is true today. The Harvard Business Review described this "career bottleneck" phenomenon as follows: "The baby boom generation is large, and too many people are competing for too few leadership positions in organizations that have been shedding layers of hierarchy. Next to job security, this is one of the biggest concerns of managers in their 40s and 50s."
Taking Measures
So, what is an employer to do? How does one provide meaningful roles for talented, ambitious people when it is not always possible to offer a bump in compensation or a more senior title? One solution is a talent acceleration program for their best and brightest. Target candidates for a talent acceleration program would typically be high-potential executives falling below the C-level.
Businesses in every industry sector could benefit from this type of program, although I believe that technology companies would potentially have the most to gain. I have observed on numerous occasions the traumatic effect that the departure of a key technology industry executive can have on a strategic initiative, if not an entire company. Moreover, today's technology companies — which, according to The Wall Street Journal, represent close to 80 percent of the companies subject to Securities and Exchange Commission stock option grant probes — seem especially vulnerable to losing executive talent, because so many of their leaders are finding themselves in the eye of the storm and need to step down. Now, more than ever, technology companies need to take measures to retain their best and brightest in order to maintain critical leadership continuity.
Talent acceleration is not about filling a gap in an organization, but rather crafting individualized development plans to make sure that an organization's best executives are experiencing such a sense of professional growth that they are unlikely to leave. This is especially important in cases in which no immediate upward career path through traditional succession planning seems apparent.
A talent acceleration program should obviously be tailored to each individual's background and aspirations, but might include:
Carving out and reassigning to an executive responsibilities from a couple of functional areas outside of the scope of his primary oversight.
Moving someone from a functional role into a line management role where he would have P&L (profit and loss) responsibility.
Facilitating an international assignment.
Although in terms of content, the possibilities are virtually infinite, the main concept remains the same: to provide prized executive talent with fresh challenges to keep them feeling highly engaged with — and therefore committed to — an organization.
---
Robert G. Fong
is a managing partner for the global advanced technology practice at
Nosal Partners
, a San Francisco-based firm.
---