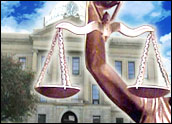 After a two-day presentation in court, a federal judge has ruled in favor of Google in a trademark infringement case filed by insurer GEICO. That frees Google to display rival logos when users search under the keyword GEICO.
U.S. District Judge Leonie Brinkema of the Eastern District of Virginia said there was not enough evidence of trademark violation. The suit was filed by the Maryland-based insurance subsidiary of billionaire investor Warren Buffet's holding company Berkshire Hathaway.
"GEICO will continue to aggressively enforce its trademark rights against purchasers of its trademark on search engines and against search engines that continue to sell its trademarks," GEICO General Counsel Charles Davies said.
Far-Reaching Implications
Financial analyst Martin Pyykkonen with Janco Partners told the E-Commerce Times that the fact that the market did not rally in the aftermath of the suit demonstrates that it didn't take the action too seriously. However, a different verdict could have had far-reaching impacts.
"Clearly, if GEICO had gotten further with this, you'd probably find a lot of others with trademarks that would try the same thing," Pyykkonen said. "And if you had advertisers all of a sudden concerned about using trademarks in keyword searches, that would have reduced keyword revenue or prevented some upsides."
Those upsides are all-consuming. The world's most popular search engine reported revenue of US$805.9 million in the third quarter, of which $411.7 million, or 51 percent, came from selling paid-search ads.
"This case was focused on Google, but it could have affected Yahoo, Ask Jeeves and others," Pyykkonen said. "On a relative basis, Google would have been much more exposed because Yahoo only has about 40 percent of its revenues coming in through paid-search."
Trademark Landscape Defined
The decision left open the issue of whether the sale of GEICO's trademarks by Google or any other search engine, in and of itself, violates the trademark laws or other laws. However, Pyykkonen said the keyword ruling preserves the trademark situation and protection as it has been and probably always will be.
"The way the case was ruled left open the continued investigation of whether ads are being deliberately displayed for a company using someone else's trademark," Pyykkonen said. "But the keyword ruling is basically saying that trademarks are protected under trademark law and there's nothing unique about the Web. You can and can't do things in the say way that you can and can't do them in print, radio, TV or whatever other form of advertising you may use."