Novartis' Alcon eye care division has entered an in-license agreement governing all ocular medical uses for Google's smart contact lenses, it announced Tuesday.
Google unveiled a prototype of its glucose-monitoring lens in January.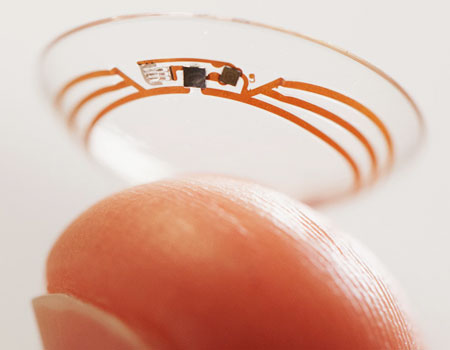 No financial details of the arrangement were released, and the deal needs to clear regulators before it can be completed.
'Dream Come True'
Novartis sees its deal with Google as a way to expand its healthcare horizons.
"We are looking forward to working with Google to bring together their advanced technology and our extensive knowledge of biology to meet unmet medical needs," said CEO Joseph Jimenez. "This is a key step for us to go beyond the confines of traditional disease management, starting with the eye."
"Our dream is to use the latest technology in the miniaturization of electronics to help improve the quality of life for millions of people," said Google cofounder Sergey Brin. "We are very excited to work with Novartis to make this dream come true."
Under the agreement, the companies will collaborate to embed noninvasive sensors, microchips and other miniaturized electronics within contact lenses. Novartis sees two immediate applications for the technology:
Helping diabetic patients manage their disease by providing a continuous, minimally invasive measurement of the body's glucose levels. The smart lens would measure tear fluid in the eye and connect wirelessly to a mobile device, such as a smartwatch.
Helping people with presbyopia, who can no longer read without glasses, by providing a lens that would emulate the auto-focusing mechanism of the eye.
Looking Beyond Search
The market for the diabetic lens is potentially very large. There are 382 million diabetics around the world today and that number is expected to grow to 582 million by 2035.
"Google is actively looking for other types of businesses to be involved in besides search and advertising," Charles King, principal analyst with Pund-IT, told TechNewsWorld.
"Given the expectation that the global market for glucose testing is going to be in excess of (US)$10 billion a year in three years or so," he continued, "this could create a sizable income stream for the company and allow it to be a first mover in a very intriguing market."
To realize that income stream, though, Google needed a good teammate.
"Google wants to make sure that the innovation and invention they have done can reach the mass market — and for that, this partner selection makes a lot of sense," Trip Chowdhry, managing director for equity research at Global Equities Research, told TechNewsWorld.
Following Trends
Smart contact lenses fit nicely into two trends ready to explode on the tech scene: wearable computers; and health and fitness monitoring.
"There are two key factors to the success of wearables," Jim McGregor, founder and principal analyst at Tirias Research, told TechNewsWorld. "They have to be fashionable, or they have to be invisible. A lot of the products out there today don't really fit either one of those."
For health and fitness devices, invisibility is very important, he said.
"When you start thinking about blood monitoring and heart monitoring, that's not stuff that you want people to be able to see," McGregor explained. "You want it invisible."
Use of contact lenses for wearable applications also may address the fashion requirement.
"There's a requirement for a new type of user interface to view data that doesn't require funny-looking goggles to do it," Patrick Moorhead, founder and principal analyst for Moor Insights and Strategy, told TechNewsWorld.
"More people would get into a Google Glass type experience," he added, "if they didn't actually have to wear glasses — if they could see it through a pair of contact lenses."