Unveiling its much-anticipated Nexus One smartphone on Tuesday, Google put it in a new class of devices it dubs "superphones."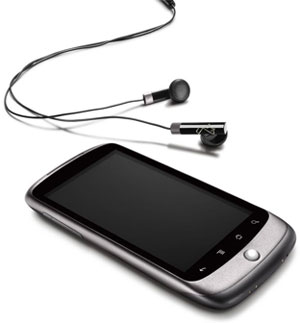 Google's Nexus One
"Nexus One is where the Web meets the phone," declared Mario Queiroz, vice president of product management. "It's an exemplar of what's possible on mobile phones through Android."
The device hit the market in two versions Tuesday — an unlocked version that will run on any GSM network, and a subsidized one from T-Mobile.
In addition to standard high-end smartphone features such as an accelerometer, a global positioning system (GPS), and connectivity to social networks, the Nexus One offers three-dimensional (3-D) capabilities and voice-enablement in all its text fields.
"Smartphones like the Nexus One are really minicomputers," pointed out Erick Tseng, Google's Android product manager. "We wanted to push the capabilities of their high-end chipsets with 3-D capabilities."
Google appears to have succeeded to some extent with the Nexus One. "From the hardware standpoint, it's more advanced than the iPhone," Rob Enderle, principal analyst at the Enderle Group, told TechNewsWorld. "It has a better display, it has a better camera, and it uses the Qualcomm Snapdragon 1 GHz processor, which means it will work on pretty much any carrier in the United States, Europe and Asia when you buy it unlocked."
The Nexus One also offers better performance and a better Web experience than the iPhone, Enderle contended. "The only things the iPhone offers that it doesn't are iTunes and MobileMe," he said.
Some Nexus One Tech Stuff
On the hardware side, the Nexus One has a 3.7-inch AMOLEDVGA display. This offers a resolution of 480 by 800 pixels. AMOLED, or active-matrix organic light-emitting diode, is an ultra-thin, ultra-bright display technology that doesn't require a backlight.
It has a 1 GHz Qualcomm Snapdragon processor. Features include a trackball at its base that doubles as a notification light when the user receives an e-mail or gets an incoming call, and a light and proximity sensor.
On the back of the Nexus One is a 5 MP camera with an LED flash. This can take photos and MPEG 4 videos. The device offers one-click upload to YouTube.
The Nexus One offers stereo A2DP Bluetooth support. A2DP stands for Advanced Audio Distribution Profile. It also has a 3.5mm headphone jack and two microphones, one at the base and one on the back. The device offers active noise cancellation for clearer calls.
Google put Android 2.1 — the latest version of Eclair — on the Nexus One. The Verizon Droid runs on Android 2.0, so all its features, including Google Maps Navigation and Facebook integration, are available on the Nexus One.
Going 3-D
The Nexus One has 3-D capabilities that include live wallpaper that interacts with users and 3-D visualization of users' photos. "We've worked very closely with the team at Cooliris, which has a plug-in technology that lets you visualize photographs in an almost 3-D environment," Tseng said. Cooliris offers 3-D technology that speeds up image search on various sites.
The Nexus One also has background synch with Picasa, Google's photo-sharing site.
It's All in the Voice
Every text field in Android 2.1 has been voice-enabled. This takes voice capabilities to new levels. When a user tells the Nexus One to find Ikea, for example, the phone will bring up the store closest to the user's location. Tapping on the phone then gets it to read back turn-by-turn directions.
With emails, users can now compose and send messages without needing a keyboard. They just have to speak out the email and then tap the screen to send it.
This technology runs on Google's servers and is designed to improve with use. "Every time you speak into the phone, the back end that's processing the speech gets better," Tseng pointed out.
Pricing, Availability and Other Stuff
Together with the Nexus One, Google launched an online store from which to sell the device. This is aimed at providing an efficient way for online users to connect to selected Android devices, Quieroz said. The devices will be provisioned before being mailed out to buyers.
Customers of Google's online store can buy an unlocked Nexus One and sign up with their preferred carrier, or buy one with a service contract from T-Mobile. The unlocked version costs US$529, and the one from T-Mobile starts at $179.
The online store will be available to customers in the United States. Initially, Google will also take orders from three overseas test markets — the United Kingdom, Hong Kong, and Singapore.
Already, Google has landed two new carriers: Verizon and Vodafone, its European owner, have also signed on to eventually carry the Nexus One, Quieroz announced. "We expect to add more operators here and elsewhere; more devices, including those from Motorola and other handset manufacturers; and more countries to the program," he said.
The Unmaking of an Industry?
The Nexus One could spell trouble for wireless carriers, predicted Carl Howe, director of anywhere research at the Yankee Group. "If you come up with a phone that will work on any network and customers get to choose their carrier, that's a whole new business," he told TechNewsWorld.
"My take on this is that Google's inching its way towards having a Net-neutral phone, and this is finally breaking the hold carriers have on phones," he explained.
Whether or not Google will succeed is open to doubt, Enderle said. By opening its store up to all carriers and handset manufacturers, Google has removed its partners' motivation to market the Nexus One actively. "Google's going to have to carry the marketing load on this all by itself," Enderle pointed out. "Carriers won't want to invest in a phone other carriers can pick up and run with."