Google Keep is available for free in the Google Play store.Some years ago I decided to eschew paper. It was part of an effort, with which I was obsessed at the time, to become more nomadic.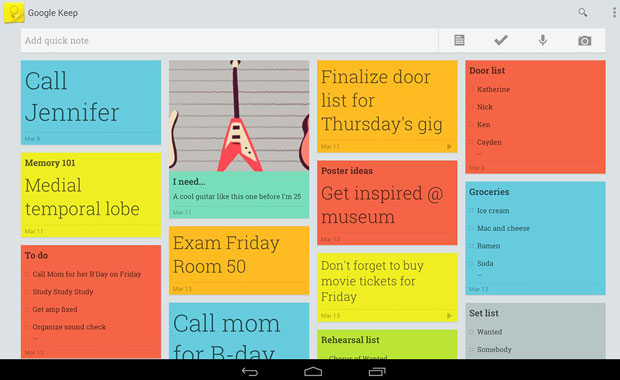 I felt then, and still do to a certain extent, that accumulations of paper were restrictive, because they forced you to always return to the place where the paper was in order to refer to things — and live your life.
One reason we have offices. Yet how can you have life experiences if you're always in the same place?
For a time I refused to carry a notebook and jotted everything down in a PDA — remember those? They were the precursor to the smartphone, only with no phone. My argument at the time was that I could make electronic backups, and I'd always have all my notes with me.
It was a bit of a nutty argument, because obviously you could do the same thing with a mini notebook.
Anyway, time went on, and the mobile physical keyboard went the way of the dodo, and I went back to a mini notepad, and that was the end of that.
Until now, possibly, if Google's latest — and recently updated — product has its way.
Notable Features
Google's Keep is pitched as an app to capture what's on your mind. In other words, it's a list and note creator. Think Evernote but simpler.
The app's features include checklist mode; the ability to insert images in a note; voice and photo notes; search; drag re-ordering; and reminders by date and time, or location. The clever location tool will remind you to do something when you're next at that location.
Using the app is super simple, and notes can be made through an always-available one-line on-screen text box. You don't have to open a text box to enter text, and the whole interface is pleasantly visual.Omitted features that logically should be included, but aren't, include repeating task reminders, although there is snooze functionality; no scribble tool; and no confirmation of delete.
A desktop Chrome app adds bookmarking of important notes.
However, I found that what this mobile app does do is perform simple note-taking and checklists well. I'd argue that feature-creep would detract from this app, in fact.
Key Comparisons
While I don't generally like to do comparisons between products in an app review, there are very obvious similarities between Google Keep and Evernote, so here goes, and I'll try to keep it short:One key difference is the synchronization time between desktop and mobile app. Evernote's fastest sync schedule is 15 minutes, whereas Keep's, while not configurable, appeared to be faster than that.
A test message I created in Keep on the Android device showed up on the desktop in seconds. That was not the case with Evernote. This may not be important to some, but if you use disparate devices during the day — a tablet for sofa and a PC for desk, for example — it may.
Another possible advantage Google Keep has over Evernote is that there's no software that needs to be downloaded onto desktop machines.
Evernote, however, has an advantage over the Google app within the Android environment, and that is that Evernote's Android app is compatible with more versions of Android. Keep requires later versions of Android and some features only work with Android 4.2 and above.
The Conclusion
The question that one needs to ask when considering an electronic note-taking option over paper lists is, are you disciplined enough to pick up your device, swipe to the app and stab away at a virtual keyboard to make a note and then file it away, likely never to be read again?
Or, would you rather grab a piece of paper, notepad, or notebook and scribble a note, possibly under a heading like To Do, for example, and lose it?
My suggestion is to try Google Keep and see what happens. The simpler the data-entry product, the better, probably, and this one is that.
I'm reminded, however, of the anecdotal tale of the author who kept years of notes on scraps of paper. When it came time for him to write his book, the author took all of his notes and covered every inch of his home with them — every surface was covered.
He then sorted them and took the notes one-by-one and hung them on a laundry washing-line in his yard, in the order that they were to be included in his story.
You can't do that with Google Keep.
Want to Suggest an Android App for Review?
Is there an Android app you'd like to suggest for review? Something you think other Android users would love to know about? Something you find intriguing but aren't sure it's worth your time or money?
Please send your ideas to me, and I'll consider them for a future Android app review.