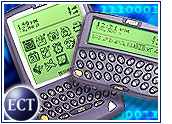 GoAmerica (Nasdaq: GOAM) rose 4 U.S. cents to $2.23 in morning trading Tuesday, after the wireless services provider announced an alliance with the personal computer division of Japan's Fujitsu.
GoAmerica, of Hackensack, New Jersey, said its Go.Web wireless service will be available on Fujitsu PC's LifeBook notebook and pen tablets. The two companies will collaborate on marketing the new products, which should be available in the second quarter.
Go.Web compresses and encrypts data for viewing on a range of devices and data networks. Fujitsu customers will be able to access and process corporate data, send and receive e-mail, and browse the Internet from their wireless devices.
Fujitsu PC vice president of marketing Sara Nelson praised GoAmerica's Go.Web technology for its "flexibility, scalability and security," saying Fujitsu PC is "confident that adding remote capabilities to our products will create a powerful tool that will change the way our customers do business."
Terms of the agreement were not disclosed.
GoAmerica has alliances with several other companies, including Hewlett-Packard and EDS. Last month, the company saw its stock jump when it announced an agreement to provide service for Research In Motion's BlackBerry pagers. Compaq and IBM also make devices that carry the GoAmerica service.
As of year-end 2000, GoAmerica had 47,632 subscribers, up more than 700 percent from a year earlier. In February, the company reported a 389 percent year-over-year increase in revenue for the fourth quarter ended December 31st. Yet the loss before interest, taxes, depreciation and amortization widened to $17 million from $5.3 million.