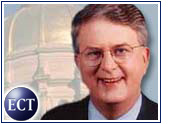 Just months after a Georgia town announced that it would provide free Internet access to its citizens for at least a year, state Governor Roy Barnes and Bell South Corp. (NYSE: BLS) have unveiled an initiative to bring high-speed Internet access to residents in all reaches of the state.
The initiative is being funded through the Business Expansion and Support Act (BEST), which is designed to encourage investment in Georgia's rural regions.
Bringing about online parity is one of the goals of the Clinton administration, and the Georgia project is the largest of its kind in the U.S. to date. Governor Barnes said that broadband technology will be delivered to 17 mostly rural Georgia communities during the initial phase of the initiative. Hundreds of thousands more rural residents and all of the state's schools will eventually get high speed Web access as the project unfolds.
"Any business can locate operations virtually anywhere in rural Georgia and have the same high-speed, broadband access as they would in a downtown metro," Lieutenant Governor Mark Taylor said at a press conference. "This new infrastructure can be a tremendous boost to economic development in Georgia and also aid in efficiently delivering government services online, such as business licenses and car registrations. Telecommuting can become a viable option for employers, too."
Economic Boost
Broadband technology — which enables users to access the Internet about 50 times faster than average speeds delivered by dial-up connections — has been virtually unavailable in rural areas since the advent of the Internet. In fact, only 2 million of the 102 million U.S. households have access to broadband capability, according to a report released in April 2000 by the U.S. Department of Commerce.
While digital subscriber line (DSL) service is available in 86 percent of U.S. cities with 100,000 people or more, the report indicates that there is less than one percent penetration in small towns of 10,000 or less. Access via cable modems is scarcely better: only one percent of those small towns have access to cable modems, as compared to 72 percent of cities with populations of a quarter million or more.
The report points out that the reason for the slower development of advanced services in rural areas is economic disparity, and that it costs more for providers to connect customers separated by greater distances.
BellSouth on the Move
BellSouth is a $25 billion communications services company, providing telecommunications services, Internet, data and e-commerce applications and wireless communications. Earlier this week, the company announced it is teaming with the Telephone Company of Central Florida to bring another form of high-speed Internet access, Asymmetric Digital Subscriber Line (ADSL), to nine southeastern states.
TCCF is the 13th company to contract with BellSouth for wholesale ADSL service.