The latest developmental beta release of GeckoLinux brings this custom spinoff distro of openSuse to new levels of performance and convenience.
When I first looked at GeckoLinux in late 2015, I was impressed with the developer's efforts to smooth over what I did not like about using the Suse infrastructure.
GeckoLinux impressed me then. It does not disappoint me now. That infant entry to LinuxLand has matured significantly in Development Release 423.171028.16 Beta, which became available late last month.
This latest release excels in refining the pitfalls of more traditional Suse-based distros. It offers an impressive variety of options and easier operation than others provide.
For me, Suse-branded distros are awkward and inconvenient to set up and use. I much prefer the Debian universe's simplicity. GeckoLinux gives me that sense of user-friendliness.
---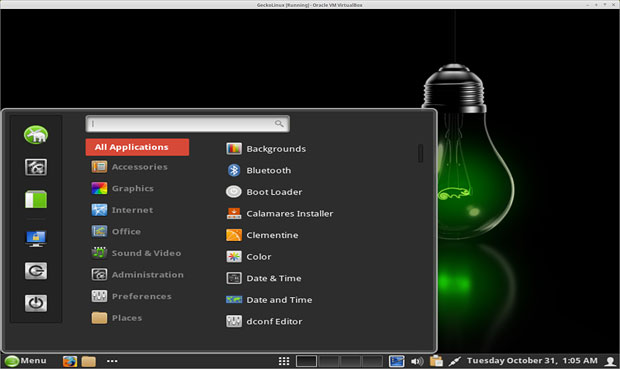 GeckoLinux'slatest developmental beta maintains the clean, uncluttered design thatcomes from modifying openSuse themes and functionality.
---
I see GeckoLinux doing for the OpenSuse/Suse world much of what Linux Mint did for the Ubuntu universe years ago. Linux Mint is an Ubuntu-based breakaway distro that smooths over the rigid ideology of the Ubuntu ecosystem. Both GeckoLinux and Linux Mint provide very workable alternatives to their forbears.
That is probably why I am drawn to the Cinnamon desktop version of GeckoLinux. I like the way GeckoLinux integrates the Cinnamon user interface.
---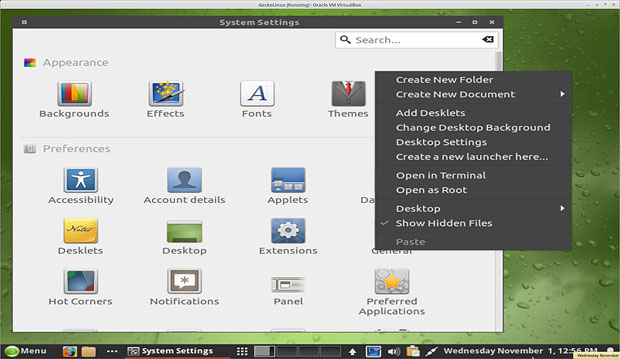 GeckoLinux'sCinnamon desktop puts a smooth user interface within a well-polishedopenSuse spin.
---
Flavored Choices
GeckoLinux offers users a variety of desktop environments. You can choose among Budgie, Cinnamon, GNOME, KDE Plasma, LXQt, MATE and Xfce. Plus, GeckoLinux's live medium lets you more easily try out all the options and install the OS from the live session. The Calamares Installer is much improved.
GeckoLinux goes a big step further. You can install it to a USB drive and create a second partition to serve as a persistent environment. That lets you save configuration changes and installed software within the live session environment.
The result is something that most distros — Debian or Suse-based — do not offer. This makes GeckoLinux an excellent portable Linux OS. The live session environment is much more functional than serving as just a demonstration tool and installation medium.
I can drop the USB drive in my pocket and boot up any computer I encounter into a fully-functional GeckoLinux OS without making any other adjustments to the host hardware.
When I first installed GeckoLinux to a USB drive with the added persistence partition in earlier versions, I found the performance quite buggy. Not so this time around.
Speaking of easy installations, another nicety with GeckoLinux is its offline installation capability. You do not need an Internet connection to run the live DVD or USB image to start installing the OS to a hard drive.
More Amenities
GeckoLinux's developer added a small improvement that makes a huge advancement for using the live session environment. He cut loose the need to enter username and password just to enter the live session platform. Those two embellishments alone make GeckoLinux a winning combination.
One of the developer's founding principles is to make GeckoLinux easy to set up and easier to use. That speaks volumes if you are familiar with the Suse Linux way of doing things.
The beta versions are a bit challenging to find on the GeckoLinux website. You can avoid the searching routine by clicking here.
GeckoLinux editions are available in both static and rolling editions. The static editions, which are based on openSuse Leap 42.2, provide periodic life cycle and long support lifetime.The rolling edition is based on the stable openSuse Tumbleweed release.
Important Differences
GeckoLinux uses the official OpenSuse YaST2 package manager repository. However, it is the modifications the developer makes to the theme and patterns that make it a better offering. Plus, you can add additional repositories for even more differentiation.
One of the things I dislike about the openSuse world is the use of Patterns. This configuration routine installs applications in category blocks. You get lots of applications you do not need.
GeckoLinux's reliance on installing software patterns is reduced to the bare minimum. This eliminates the hassle of continually removing unwanted packages only to find them added to the next round of system updates.
GeckoLinux sports some key differences over openSuse. One is how it handles codecs. GeckoLinux comes with proprietary media codecs and other necessities. openSuse makes you install them manually.
GeckoLinux eases up on the OpenSuse strictness in dealing with proprietary software by allowing packages from the Pacman repository when they are available.
GeckoLinux also has a better font rendering than openSuse's default font configuration.
Bottom Line
GeckoLinux is an ideal option for switching to a new distro experience. I particularly like how the Cinnamon desktop works. Since I favor the Cinnamon environment in Linux Mint, changing over to GeckoLinux came with no difficulties. All the settings and features played out as expected.
Kudos to the developer for making GeckoLinux such a solid alternative computing platform. I did not expect a developing early beta to be so glitch-free.
Want to Suggest a Review?
Is there a Linux software application or distro you'd like to suggest for review? Something you love or would like to get to know?
Please email your ideas to me, and I'll consider them for a future Linux Picks and Pans column.
And use the Reader Comments feature below to provide your input!