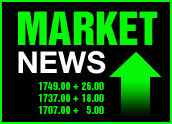 The stock markets got a boost today from a dip in oil prices, a better-than-expected reading on overall economic growth and a blockbuster acquisition in the Internet space that helped tech stocks outperform the overall market.
The Nasdaq turned in the best performance of the major stock averages, rising 1.2 percent, a surge fueled by the announcement that travel and real estate services giant Cendant would buy controversial airline reservation site Orbitz in a deal worth $1.25 billion. Orbitz shares were up 30 percent on the session.
Orbitz had been the bane of other travel sites since it was formed in 2000 by several major U.S. airlines. The competing travel sites waged a fierce antitrust battle to have it broken up.
Internet Stocks
The merger news lifted other Internet stocks, with Amazon.com, Google and Yahoo all up more than 3 percent on the day and Orbitz competitor Priceline.com up more than 10 percent on the session.
Overall, the Dow was up 58.84 points to 10,136.24, the Nasdaq gained 24.07 to close at 1,893.94 and the S&P 500 rose 4.74 points to 1,114.80.
The rally was aided by a drop in crude oil prices that broke a lengthy run-up. New York crude futures fell 39 cents on the day, to close at $49.51, and had actually fallen as much as a $1.50 during trading after a report showed U.S. inventories rose 3.4 million barrels last week, despite a lack of output from Gulf of Mexico production facilities.
Economic Expansion
Also today, the Commerce Department said the U.S. economy expanded at an annual rate of 3.3 percent in the second quarter. Though below the 4.5 percent clip the economy grew at during the first quarter, the number is an upward revision of the initial estimate of 2.8 percent growth.
The number may lend more credence to the Federal Reserve's notion that the economy remains on track for continued growth, a belief that has led the Fed to continue raising rates, even as some data, such as job growth, suggested the economy might be cooling considerably.