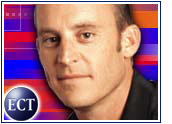 Gateway (NYSE: GTW) fell US$1.25 to $15.95 Thursdaymorning after the computer maker warned that its first-quarter operating income will bebreakeven, rather than the 17 cents per share expected by analysts.
Salesare "down slightly" from a year earlier, Gateway said.
Gateway said results for the quarter ending in March will also include a charge of $150million to $275 million as it restructures operations and narrows itsfocus to concentrate on core computer manufacturing operations. Thefigure includes a previously announced $50 million charge for job cuts.
In addition, the charge will cover the possible closing of unprofitableretail stores, "modification of or exit" from some international markets,and writedowns related to information technology projects, Gateway said.
"We expect to continue operating the business on a breakeven basis throughthe first half of the year, with a planned return to profitability and unitgrowth on a year-over-year basis during the second half," said chairman andchief executive officer Ted Waitt.
Gateway also said it will restate results for 2000 to reflect accountingchanges and the writedown of investments in technology companies, loweringnet income for the year by about $74.5 million, or 22 cents per share.
Gateway shares are down from a 52-week high of above $75. The shares took ahit in January when the company reported afourth-quarter loss and announced the restructuring plan.
At the time,the company blamed "a continued deterioration of worldwide PC demand andincreasing pricing pressure, both of which are expected to continue at leastthrough the first half of this year."