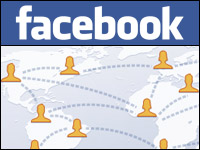 Facebook shares fell on Tuesday, as the social network faces problems adding new users in multiple markets. The number of users on Facebook in the United States actually slipped by 1.1 percent, according to a new report from Capstone Investments.
Facebook has seen phenomenal growth since its inception in 2004, and last reported having more than 900 million users. So it shouldn't be surprising that growth is slowing.
"Facebook cannot continue its hockey stick growth forever," said Rebecca Lieb, analyst of digital advertising and media at the Altimeter Group. "It went from zero to a billion users in a short amount of time, and that adoption was extraordinary."
This level of new users actually mirrors past technological adoption of the telephone, television and the computer but at a much faster rate, Lieb told the E-Commerce Times.
"It has now achieved saturation," she added.
Beyond Losing Face
The slowdown in new members, especially as it comes just after what is arguably one of the most high-profile IPOs in recent memory, could also affect the company's bottom line.
"Facebook's valuation was based on a 20 percent growth rate extended over a period of five to 10 years," said Rob Enderle, principal analyst of the Enderle Group. "If growth stalls, then their valuation drops precipitously. In effect, the house of cards collapses, with dire results for investors — who likely aren't that happy with the company at the moment anyway, given post-IPO performance."
But was it ever really possible for Facebook to even keep up that momentum in growth?
"Facebook has enough users, and users have enough friends," said Josh Crandall, principal analyst at Netpop Research.
"While more is better, Facebook's current audience is a barrier against other general purpose social networking sites from gaining momentum," he added. "Facebook must do everything it can to remain 'cool.' If traffic and unique visitor metrics slide, the media is likely to compound the issue and influence other users' perceptions of the service. It's a minefield that Facebook would like to avoid."
Mister Market Dynamic
At times it is best to ignore fluctuations when determining whether to buy or sell stocks, and instead focus on the stock valuation, investor/author Benjamin Graham suggested in his 1949 book, The Intelligent Investor. However, it could be that many people are taking this beyond face value with Facebook.
"Facebook offers a classic, if extreme, example of what legendary investor Graham called the 'MisterMarket' dynamic — where the market tends to react extremely, both positively and negatively — no matter what happens, " Charles King, principal analyst at Pund-It. King told the E-Commerce Times.
"But due to the attention Facebook garners, those reactions tend to be even more extreme even if the situation — like the company's current woes — is fairly modest," he pointed out.
Facebook also offers a great example of the difference between investment and speculation. The former is based on analysis of financial soundness, the quality of management, and current/future prospects, while the latter qualifies as a wager on the likelihood of numerous, often tangential, factors driving share value higher — what Warren Buffet called "buying for a pop" this week.
Some folks also define this as the difference between "value" and "growth" investment, and the IT industry has been home to numerous growth stocks over the years. FB is simply the latest example of this to come down the pike.
Facing Forward
There is the old proverb about China that a "billion people can't be wrong," and while Facebook never actually reached that number, it shouldn't be overlooked that in a very short amount of time it outpaced most other media properties.
"That is a very important factor to keep in mind," added Lieb. "It is the biggest media property in history. It is bigger than any broadcaster or any in the print medium. It really can't get much bigger."
Facebook's bigger challenge beyond membership slowing could be its ability to actually generate revenue and create a viable business model. And it has to do so in ways that move beyond traditional media, and that could mean looking beyond advertising.
"Rather than finding more users, Facebook has a real revenue problem," added Crandall. "Users aren't paying attention to advertising, instead, they only focus on their news feeds. Facebook needs to look hard at other revenue possibilities."
How this will shape out isn't clear. But in many ways this is a learning curve for those on both sides of the equation, as Facebook doesn't want to drive away users, but brands are also increasingly challenged on how to market and advertise on the social network.
"This is the challenge that Facebook faces right now," said Lieb. "It has to develop advertising methods that are attractive to advertisers and brands but don't alienate its users."
Facebook did not respond to our request to comment for this story.