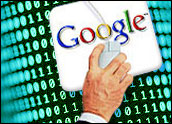 I think the European Union often goes overboard, and I typically don't agree with its rulings. However, when the EU declared Google invaded privacy, it seemed to have struck a nerve. Countless users worldwide agreed. So, what impact will the EU have on Google with respect to a citizen's right to be forgotten?
This struggle is all about protecting privacy online. It's about residents of the European Union being able to request that Google exclude links to certain information about them from its search results.
Wouldn't you love to be protected like that? The EU just slapped Google down for not respecting the privacy and personal information of users and companies.
That Wiggly Line
True, Google does not create information. It only points to content published on other sites. While many users don't mind, many other users do — and that is the crux of the problem. Google did not respect the concerns of users who wanted to be more private.
I can't say I disagree with the EU. To set the record straight, I love Google. I love its innovation and creativity. It has rewarded investors and users worldwide, and it continues to push the envelope.
That does not mean Google is perfect. There are areas where the company crosses the line and goes too far.
Invasion of privacy is one of those areas. Google has the attitude that all information should be easily findable. Plenty of users agree with that take. However, plenty others don't — and Google does not seem to care about that sector.
People are different. Some like one thing, others do not. So companies always have worked hard to attempt to please everyone. That provides them with the biggest market to sell to.
Google doesn't play by those rules, though. It wants to find and make available all information with just a few clicks on a keyboard. That crosses the line of personal information and privacy for many users.
Not everyone wants everything out in the open. People are different. There are always people who are completely open about everything in their private lives. However there are also plenty of people who don't want to share anything.
Both are right — neither is wrong, and this is the line Google crosses. It doesn't respect the position of the people who want to keep their personal and private information private.
Google Brought This On
Typically the EU is overprotective and tends to tie the hands of companies that would rather be innovating. However Google is one of those companies, and people both love and hate it.
I would like Google to keep growing and innovating and transforming industries. However I would also like Google to respect the privacy of those who want it.
What's next? Google has to work on developing a way to automate the process of eliminating certain links and information at users request. Toward that end, it just launched a request form on its Right to be Forgotten Web page.
However, this also opens all sorts of new doors and raises plenty of questions.
I would love to be able to feel sorry for Google; however this suffering is self-inflicted. If it didn't cross the personal privacy line, and if it respected the rights of users worldwide, then it wouldn't be faced with this big problem.
Don't worry, though. This is not the end of the line for Google. This issue will play itself out over the coming quarters, and other countries likely will jump in as well.
Although this won't kill Google, the problem could grow and become a much bigger thorn in Google's side. That would not be good. Google is too valuable and too important. We want Google. We need Google.
That said, we want Google to play by the rules when it involves personal and private information of people and companies. That is the fair thing to do.