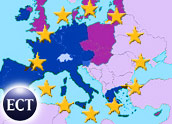 In Europe, broadband Internet access is seen as a ticket to economic freedom and prosperity. That's one of the key ideas behind the European Commission's announcement Wednesday of its intention to increase broadband penetration from the current 20 percent to 30 percent across the bloc by 2010. The EC unveiled this goal in its 13th Progress Report on the Single Telecoms Market.
Four of the EU's 27 members — Denmark, Finland, Sweden and the Netherlands — currently exceed that 30 percent benchmark.
However, only eight EU countries — the aforementioned four plus the United Kingdom, Belgium, Luxembourg and France — ranked ahead of the U.S. in broadband use as of last July, said Viviane Reding, the EU's commissioner for information society and media.
An Economic Boon
High-speed connections equal economic prosperity, she noted. "The European regulatory model is designed to increase competition in the telecoms market, and this certainly is starting to pay off. However, the job is not yet done. Competition is limited for access to the fixed network, which is still provided to 86.5 percent of customers over the incumbent's infrastructure."
Only 30 percent of major operators' EU business is outside their home market, Reding added.
"This shows that we still lack an attractive single market for businesses and services of European dimensions, so we must intensify our efforts to reduce the regulatory borders in Europe," she said. "Only by opening up the single market for business will Europe become competitive and will consumers benefit from a wide choice of rich and affordable services."
The telecom sector is worth nearly 300 billion euros (US$463 billion), or 2 percent of the EU's gross domestic product, and grew by 1.9 percent last year, according to the European Commission.
Last year also was the fifth straight year of increased investment in this sector, exceeding 50 billion euros (US$77 billion), which was similar to the U.S. and higher than China and Japan combined.
Ahead of the US
The EU has the right idea on broadband usage, said Zeus Kerravala, enterprise group vice president for the Yankee Group.
"It's shameful that the U.S. is so far behind," Kerravala told the E-Commerce Times. "It would seem to me that the U.S. would recognize the importance of broadband connections. It has become such a necessary component in commerce, and it's good that the EU recognizes its importance."
Kerravala said broadband usage is especially important in a growing telecommuting business world.
"In countries like Pakistan, where women are limited in where they can work, broadband connections have opened up a whole new outlet," he said. "And its importance is not just for people working at home; high-speed connections are useful because they are integral in being able to work from any remote location."
Working Together
The old dial-up connections are obsolete in many instances, said Alan Chapell, president of Chapell and Associates.
"It's to a point where, in many circumstances, you have to have a high-speed connection for videos and other high-content transmissions," he told the E-Commerce Times.
The EU's move toward continuity in Internet access is an advantage of working as a large bloc, Kerravala noted.
"They can work together to make sure some members who don't have the access that other members have can get the same technology working across the EU," he said.
One of the problems in the U.S., Kerravala added, is that Internet connections are not considered as much of a necessity as telephone access.
"That has been a limitation, and what you find is that urban areas with higher-density populations are better served than the rural areas," he said.
Connections on the Rise in Europe
More than 50,000 European homes and offices added a high-speed broadband Internet connection every day last year, the EU reported. As a result of increased competition, prices have fallen as connection speeds have increased.
The EU also said mobile third-generation Internet services doubled in 2007 to include 88 million users — 20 percent of the bloc's population.