Element14 on Tuesday revealed an exclusive agreement to offer OEM customers bespoke designs based on theRaspberry Pi platform.
Raspberry Pi — which has seen success in the educational and maker fields — is targeting commercial manufacturers and the Internet of Things, signing up Premier Farnell through the latter's element14 brand to customize its boards.
Customizations will include reconfiguring the Raspberry Pi board layout, adding functionality, redesigning the interfaces, and changing the board and memory configurations.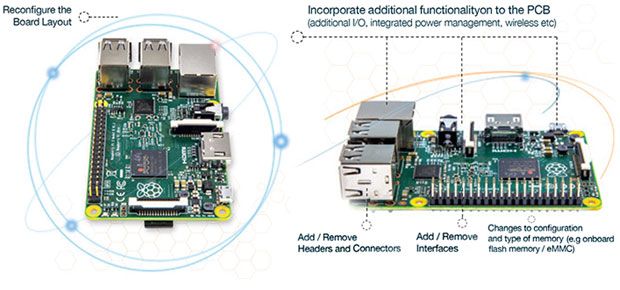 Minimum order quantity is 3,000 to 5,000 units. Pricing and lead times will be calculated individually for each project.
An order of 3,000 to 5,000 units "is low enough that it could be used in a wide variety of applications, ranging from new consumer platforms to industrial automation," said Jim McGregor, principal analyst atTirias Research. "It wouldn't limit the potential."
However, in the IoT, "the greater trend is to integrate into a single piece of silicon, like what Freescale's doing with the SCM module," he told LinuxInsider.
The Life of Raspberry Pi
The first version of the Raspberry Pi had a Broadcom BCM2835 system on a chip, consisting of a 700-MHz ARM1176JZF-S processor and a VideoCore IV GPU. It had 256 GMB of RAM, later upgraded to 512 MB.
The Raspberry Pi Foundation last year launched its Compute Module, which consists of the Broadcom BCM2835 SoC and an eMMC flash chip for use in embedded systems.
The Raspberry Pi 2, which has a Broadcom BCM2836 SoC with a quad-core ARM Cortex-A7 CPU, a VideoCore IV dual-core GPU and 1 GB of RAM, launched earlier this year.
Any of the Raspberry Pi boards and accessories will be customized, and all will use the Broadcom SoC.
Will OEMs Bite?
"This potentially reduces time to market and development costs," said Tom Hackenberg, a principal analyst atIHS.
For modifying existing applications, customization "can represent an inexpensive solution used to add functionality such as connectivity driven by the IoT trend to existing devices without changing the existing board," he told LinuxInsider.
For new applications, a customized Pi "can represent a jump-start to the complete device design at a considerable cost savings compared to designing from scratch or using traditional embedded computer boards, which have a lot more invested in scalable, validated and tested designs," Hackenberg said.
OEMs indeed are prototyping with low-priced CPU boards such as the BeagleBoard, Arduino and Raspberry Pi, Bill Weinberg, senior director of open source strategy atBlack Duck Software.
Element14 "seems willing to spin minor to fairly major mods to the basic Raspberry Pi design for a modest uptick from COTS pricing," he told LinuxInsider.
Makers and IoT Players Will Love This
Manufacturers are not likely to change their fully bespoke practices "to embrace this new Pi of a thousand faces" because each vertical has its own hardware and performance requirements that are better met by specific SOCs and ancillary chips with aggressive price points, Weinberg remarked.
However, customized Pis "will be a huge boon to the maker movement and to startups building IoT devices," he suggested, as they "generally lack negotiating leverage for favorable silicon pricing and also are new to hardware design and manufacturing."
For such customers, the customizable Raspberry Pi "will be a shot in the arm, a tonic to get them from raw MVP to product-grade volume in months instead of years," Weinberg said.
"It's more difficult to get these segments to commit to minimum production volumes," said Tirias Research's MacGregor. Still, customization "creates a broader appeal for the Raspberry Pi ecosystem that now extends through commercial applications."