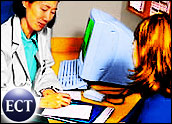 With facilities in 25 states and the District of Columbia, Beverly Enterprises is among the largest providers of eldercare in the U.S. Through its Beverly Healthcare division, it provides 367 skilled nursing homes and 19 assisted living facilities. Ninety of its facilities have Alzheimer's Disease care units.
The traditional model where patients find out about Beverly's and other senior care services through hospital discharge planners or case managers at the time they have a need for skilled nursing services still holds sway in the industry, Dwyane Dabbs, director of business development for Beverly Healthcare, told CRM Buyer. But he said the way Beverly Healthcare communicates with its market is changing. As part of that change, Beverly Healthcare has turned to a CRM solution from Seattle-based You've Got Leads to manage and track its inquiry process.
You've Got Leads, a hosted CRM solution for eldercare facilities, was developed by A Place For Mom, the nation's largest free referral service helping families find nursing homes, assisted living, Alzheimer's Disease care, retirement communities, and home care. John Temple, chief operating officer, said the company developed You've Got Leads after looking at Salesforce.com and Salesnet and determining that these products did not offer the right combination of flexibility, senior care vocabulary, and clinical flow that eldercare facilities needed. From that start, Temple said, You've Got Leads has grown to 2,000 users today, including Beverly Healthcare.
Niche Products
The approach for You've Got Leads, Temple explained, was to build a narrow, vertical application with the necessary vocabulary for the industry and then manage the feedback from customers to "supercharge it." As a result of its initial veriticalization success, he said, You've Got Leads continues to put its products in a niche by providing solutions specifically for assisted living, nursing homes and even branching out into apartment management.
Workflow issues, as well as inadequate lead capture and management for those interested in long-term care, were reasons that drove Beverly Healthcare to look at CRM solutions, Dabbs says. In 2002, while they were trying to decide on whether to adapt an existing sales response application or to build one themselves, they were approached by You've Got Leads.
Dabbs says that the implementation of You've Got Leads went very well. Explaining that cultural matters were a major issue, he told how the company's 367 administrative assistants were used to using a pen rather than a computer. "They weren't used to taking a lead and immediately entering it and then working with it, because our previous system let this happen at the end of the day," he said.
In addition, the executive director at each facility can use the CRM tool to track trends in the facility. Before implementing You've Got Leads, Beverly Healthcare would not have know that it was having a problem with a particular case manager or hospital until it became apparent by a drop in the number of residents, Dabbs says. Now the manager can see this earlier. "Our average stay is three weeks, and now we can take corrective action before it shows up as a drop in resident census," Dabbs explained.
Market Share
You've Got Leads has allowed Beverly Healthcare to increase the number of residents who pay privately versus through Medicare or Medicaid and to increase its overall occupancy rate by three-fifths of a percent. "That may not sound like much. But when you are operating on the scale we do, it's huge in this business," Dabbs said.
There are an estimated 2 million people residing in assisted living and nursing homes, Tim Benson, research assistant for the American Seniors Housing Association (ASHA), told CRM Buyer. He says most people don't enter assisted living until they are in their 80s.
Benson, basing his estimates on census numbers, says he expects the number of senior housing residents to grow to 5 million people by 2005. However, he expects growth to slow by 2010, when only 5.8 million people are expected to reside in these communities.
Dabbs says the senior care industry is very competitive, and while this is good for the consumer because they have more options, it puts pressure on a care center's need to respond. Because hospitals need to move the outpatient to a new care facility quickly, Beverly Healthcare's ability to respond fast is important because it may be one of several facilities proposed to those making the decision about the next steps in the patient's care. In the past, Dabbs said, facilities for seniors took a couple of days to respond, but now it's less than an hour.
Alternatives Sought
Dabbs said that today there is a growing segment of the children of older parents who are researching alternatives to their parents living in the home. They are turning to the Web to do this.
Online Consumers Lagging Forrester researcher Lynne Bishop said that company conducted demand-side research regarding consumer technographics during the fourth quarter of last year. She said that the responses regarding skilled nursing facilities showed that only 2.5 percent of adults had shopped online for eldercare services. "Online shopping ignores the interplay about how people shop for such services by going to doctors, community resources or other offline sources," Bishop said. Still, she acknowledged that Beverly's exploiting of the traditional communications links within the hospital remains important.
Dabbs corroborates the Forrester data, noting that hospital discharge planners or case managers are still the primary way people find out about Beverly, but that the discharge planners and case managers are now guiding people to Web sites to research options before visiting an eldercare facility.
Family Caregiver Competition
He also recognizes that family caregivers are among his biggest competitors of eldercare services. According to a 2002 American Association of Retired Persons (AARP) Study, "Family Caregiving and Long-Term Care," family members provide about 80 percent of the care for individuals needing help with daily activities, such as taking medications, bathing, dressing and bill paying. Most of this care is unpaid, but a 2002 estimate of the cost of replacing care by family with paid care was a staggering US$257billion annually.
Full Use The operation averages more than 5,000 leads a month, and its peak this year was 6,200. Dabbs says the You've Got Leads uptime is nearly 100 percent. "In two years, they were down for maybe 30 minutes," he remarked.
Currently, Dabbs says, Beverly Healthcare is running a project to integrate You've Got Leads with Vista Keane, its integrated financial and clinical software for long-term and post-acute care, which will turn lead contact information into patient information with a single keystroke. He said that the care facility is also looking at other ways to reduce redundant key strokes and improve workflow efficiencies.