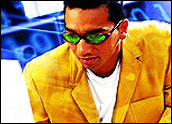 eGain Communications on Monday released the latest iterationof its self-service application, eGain Service 7.6.New features include guidance on complex customerinteractions and tweaks to security, as well as additionalprocess improvement. The changes, eGain CEO AshuRoy told CRM Buyer, are based on either customerrequests or the company's experiences in the field.
Such incremental gains in functionality –across the self-service industry in general — arelikely to be the norm going forward, according to Gartner research director Esteban Kolsky. "The self-serviceindustry has matured," he said. "I don't anticipate anysignificant advances other than those that build oninvestments or product direction that has already beenestablished."
A Wide Range
eGain Service already supported a wide range of self-servicefunctionality, including SMS (short message service)customer service interactions, Web self-service, chat,co-browsing, e-mail, fax, postal mail support, notificationmanagement, call tracking and resolution, and servicefulfillment. Version 7.6 includes enhancements to these features, as well as an upgrade to the application's customerinteraction hub (CIH) platform, a scalable service management platform that the company rolled outabout a year-and-a-half ago, Roy noted.
Based on J2EE (Java 2 Enterprise Edition) architecture, eGain's CIH features integration with third-party business applications,content management systems and a call centerinfrastructure application. The service-oriented architecture (SOA)-based platformalso enables the development of custom applications.
eGain Service 7.6, which can be deployed on-demand oron-premise, includes the following new funtionality:
Self-Service
eGain MessageCenter, which offers secure e-mailcommunication between the customer and the business,allowing customers to view their interactionsthrough an authenticated Web site.
Assisted Service
eGain Adviser, a guidance module that helps agentshandle informational or transactional customerinteractions. Features include contextual upsell andcross-sell, follow-on service fulfillment, andvalue-added advice that is compliant with regulations and corporate best practices. It also provides auser interface and integrated workflow powered by eGain's Inference reasoning engine.
eGain CallTrack, an application that works witheGain KnowledgeAgent software for phone calllogging, tracking, resolution and follow-on servicefulfillment.
eGain SME, a collaborative tool that enables reps toconsult with subject matter experts (SMEs) throughout the enterprise.
eGain SMS, a system to manage customer interactionsvia the increasingly popular SMS protocol.
Process Automation
eGain AutoClassify, a process management tool thatclassifies and routes incoming inquiries and e-mail.It uses eGain's Inference reasoning engine to provide a morerobust classification of inquiries as opposed to simple keywordmatching.
eGain AutoWorkflow, another process management toolthat works with the eGain Workflow Engine and eGainAdapters to automatically execute service processes.
eGain Notify, which helps to manage and deliverevent-based reminders, alerts and updates.
eGain Survey, for use in contact centers, e-commercesites and customer portals to solicit and act on customerfeedback.