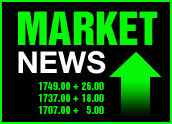 A strong earnings report from computer maker Dell, and additional evidence that the economy is on track, provided the impetus today for more gains on Wall Street to close out the week.
The Dow rose 69.17 points, or 0.66 percent, to finish the session and the week at 10,539.01. The Nasdaq again was the strongest performing index, climbing 24.07, or 1.17 percent, to 2,085.34. The S&P 500 also rose by 10.69 ,or 0.91 percent, to 1,184.17.
For the week, the Dow was up 1.5 percent, the Nasdaq rose 2.3 percent and the S&P 500 was up 1.5 percent and finished the week at its highest level in nearly three years. Most of those gains came at the end of the week, after two flat sessions ahead of the Federal Reserve's interest rate hike on Wednesday.
It marked the second straight week of gains for all the major averages, which have staged a strong rally since the presidential election was resolved.
Good Economic News
Tech stocks shone for a second straight day, this time with Dell out in front after it posted a 25 percent increase in third-quarter profits and matched forecasts for its future outlook. Dell shares gained more than 7 percent on the day.
Meanwhile, the Commerce Department today reported that retail sales for October were up 0.2 percent, outpacing expectations. Sales rose despite a sharp decline in auto sales. With car sales stripped out of the data, sales were higher by 0.9 percent, the best growth rate since May.
Meanwhile, the closely watched University of Michigan index of consumer sentiment also posted marked improvement, rising to 95.5 from 91.7 in October, beating expectations as it rose to its highest level in three months. The university report precedes the more widely recognized Conference Board report, which is due out at the end of the month.
Oil Drops
Oil, meanwhile, continued its long retreat, losing 10 cents on the session to close at US$47.32 a barrel. Oil futures were down $2.29 for the week, or nearly 5 percent.
The strength of U.S. currency overseas continued to be a story that many analysts say bears watching as the dollar fell against both the Euro and the Yen.