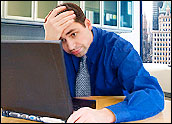 If you're buying anything online anytime soon, you better charge it. MasterCard, Visa, American Express — take your pick — but don't hit the virtual checkout lane without your bank-protected plastic in hand.
"Use a credit card for maximum protection against money theft online," attorney Mari Frank, author ofSafeguard Your Identity, told the E-Commerce Times. Frank also hosts the"Privacy Piracy" radio show.
Be careful, though — all plastics are not equal.
Debit Cards and Checks
"Don't use a debit card," warns Frank, "because if fraud does occur, the money is drained from your account, and the Electronic Funds Transfer Act is not as protective as the Fair Credit Billing Act that covers credit cards."
Don't think a check is any safer.
"Using a check is very dangerous, since your routing number and checking account number can be placed on new checks from office accounts to siphon the money from your account," she pointed out.
Even PayPal should be bankrolled with your credit card — not a bank checking account. "It's hard to get your money back if you use anything other than a credit card. Once somebody has your money, it's hard to find them and wrestle the money back," Avivah Litan, a senior analyst at Gartner, told the E-Commerce Times.
It can also be tough to get the promised merchandise, especially if you buy foreign goods.
After the Fraud
"Fraud is harder to fight further away from home," Glen Giles, a partner in Gorilla Guitars — a specialty guitar shop that also sells products online — told the E-Commerce Times. "Be aware that not all U.S. consumer protection laws are readily enforceable in foreign countries. If you sent your money in any way other than a credit card, you could easily be out the cash and the goods."
If you use a credit card to buy online and don't get the goods, or you're charged too much, or someone steals your credit card information, then all you need to do is contact the bank. Under the Fair Credit Billing Act, the bank has to correct the situation — not you — and you aren't out anything. Plus, you get to review your statement before you pay the bill.
"As a former victim of ID theft, I feel safe using my regular credit card for my purchases, because I look carefully at my bills and question anything I don't recognize immediately — before I pay the bill," says attorney Frank.
With debit cards and checking accounts, you have to report the problem immediately, but you may become aware of the problem too late to report it.
"There are lots of forms and affidavits to fill out and file, says Gartner's Litan. "It's a lengthy process that may not do you any good in the end."
Don't use Western Union, she says, or those stored value cards — made by American Express, Visa, Barnes & Noble and other major chains — that a cashier loads with funds at the point of purchase. Although they're far safer than debit cards, you can lose the value of the card.
Protecting your money and checking accounts, then, boils down to one simple solution. "If you don't have a credit card, don't shop online," advises Litan.
Never Assume
Another way to protect yourself online is to be careful about which online stores you patronize.
"Never click on links in Web sites or e-mail," says Frank. "Only buy at Web sites that you type in the URL yourself. If you are leery for any reason, listen to your gut and just don't do it."
Sometimes an Internet browser will help warn you of a fraudulent site — but not always.
"Some browsers — like Internet Explorer, AOL and even Google — will put a stoplight graphic or a flashing warning by a site known to be a problem," says Litan. "Certainly avoid those sites, but don't assume the site is safe just because you didn't see such a warning."
Certifications on a site also have limited value. Many certification seals and logos mean nothing. They are only there to lull you into a sense of false security. However, seals from nationally recognized organizations like TRUSTe, VeriSign and BBB Online really do help protect you.
Storing information on a Web site or on your computer is also dangerous. It often gives quick access to thieves.
"Don't ever enter any personal info beyond the basics — don't enter your social security number or birthdate or anything truly personal. A store really only needs to know where to ship, what to ship, and how you are paying for it. They don't need, nor should you provide, anything beyond that," says Litan.
If, despite taking precautions, you find yourself the victim of identity theft or otherwise fleeced,Privacy Rights lists some important steps to take to recover from the crime.
"I helped them write those steps from my own hard experience as a former victim," says attorney Frank.
Keep the Privacy Rights Web address handy. Crooks are very talented at circumventing any safeguards, and you might need some serious help one day.
"We're never going to be able to completely outsmart crooks purely through prevention," says Litan.