Well, it happened.
We knew it was possible; the signs were all there. The Systemd Inferno, after all, had been raging for far too long.
But more than a few of us were still holding out hope. "Things will surely get better," we thought.
Then the news came. The rumored Debian fork has now become real, and its name is "Devuan."
That's DevOne to You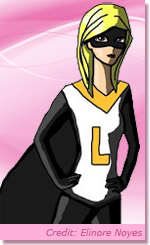 "Dear Init-Freedom lovers, the Veteran Unix Admin collective salutes you!" the new project's website begins. "Our project is called 'Devuan.'"
Dev-what, you may say?
Well, the developers have an answer ready: "Devuan is spelled in Italian and it is pronounced just like 'DevOne' in English," they explain.
So there you go.
"I hate the name; I love the idea," Hyperlogos blogger Martin Espinoza told Linux Girl. "Sadly, a squatter seems to have colonized 'devone.' I hope it turns out, because this is precisely what I want to be running."
On Slashdot, on LXer and across Linux land, tongues have been wagging about little else.
'This Will Not Last'
"I really wish I could believe that this distro would be a success and that all of the malcontents would move there rather than constantly whining, but instead there is a post with some mythical and nameless 'us' and a mailing list with a handful of active participants with a horrid signal-to-noise ratio thanks to some out-of-control trolls," consultant and Slashdot blogger Gerhard Mack opined.
"I am just not seeing any actual work being discussed on their mailing list," Mack added. "My prediction — as much as I wish otherwise — is that this will simply not last."
Others took a brighter view.
"I have no issues with a fork of Debian," Linux Rants blogger Mike Stone offered, for example.
'Here One Day, Gone the Next?'
"I haven't used Devuan, so I can't comment directly on its quality, but it is a fork of Debian, so it's got a very solid base to work from," Stone explained. "It's using well-established technology, so there's no reason that the distribution itself shouldn't be good."
The real test, of course, is going to be "in the team that's creating the fork," Stone said. "Are they going to have the stamina to stick with it, or is this going to be a fly-by-night scenario, where they're here one day and gone the next?
"To me, that's where the real crux of the issue is, and what will determine if Devuan becomes a geeky household name or a footnote in geek history," he concluded.
'I Support the Split'
"It's great," Google+ blogger Alessandro Ebersol said. "They are folks doing something to change what they don't like."
These days "the so-called 'community' is immersed in apathy," Ebersol opined. "Folks do nothing — they just accept things upstream."
Not so the Devuan project team, however: "They did something about it, which is great, really great," he said. "It's a community of working users, not just folks who sit back and enjoy the ride."
Similarly, "I support the split," SoylentNews blogger hairyfeet agreed.
"It's obvious the heads at Debian are gonna ignore every complaint, and without the power of voting with their wallets, a fork is the only alternative," hairyfeet said. "The question will be where they will get the funds to keep replacing Systemd when it keeps growing like kudzu and gobbling up more and more objects."
'Creating a Fork Is Easy'
The move "is not something I would have urged anyone to do," Google+ blogger Kevin O'Brien told Linux Girl.
Now that it is done, however, "time will tell," he said.
"Creating a fork is easy; maintaining one over time is much more difficult," O'Brien explained. 'If they can gather a community that will support and push forward this fork, then it will have been good. If they can't, it will eventually disappear like so many before it."
Indeed, "I wish Devuan the best of luck putting together former Debian packagers, developers and enthusiasts," Google+ blogger Gonzalo Velasco C. said. "After that, I hope they get the attention of some derivatives and may form a strong community."
'It Could Grow'
Last but not least, blogger Robert Pogson could see both sides.
"It's hard to imagine Devuan will have anything like the vitality of Debian any time soon, but if enough are having the frustrations I'm having with Systemd and PulseAudio, I expect it could grow into something with persistence," Pogson said.
"I was fiddling with a tiny x86 machine today and wanted to install nfs-common, of all things Unix-like, and APT wanted to pull in Systemd," he recounted. "The chain of dependency was very long on an updated system."
Debian's commitment is that "one package should not interfere with another, and here is Systemd prying its way into my systems," he pointed out.
'APT Does All the Work'
That principle, in fact, "makes life sweet for administrators using Debian," Pogson said. "APT does all the work."
Systemd, meanwhile, "is making Debian GNU/Linux resemble that other OS very rapidly," he charged. "One should not get into dependency-Hell over installing a basic package to do file-sharing."
In short, "I don't know whether Devuan is the answer," Pogson concluded. "Slackware and others are already there, but I do love APT. Systemd is turning APT from being a Javelin into a bludgeon — that's not the right way to do IT.
"I was hoping that by going back to Wheezy, I could delay making a decision whether to leave Debian or not," he added. "Perhaps reason will prevail in time."