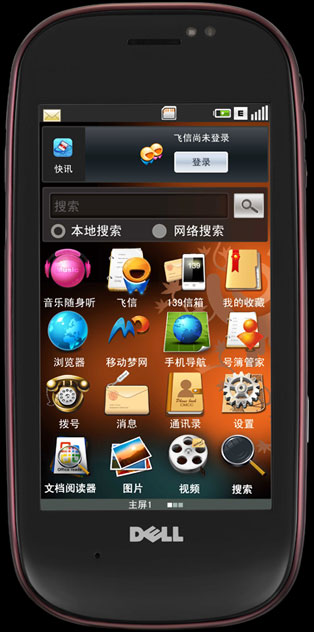 Dell's Mini 3 Android Smartphone
After months of rumors, Dell has confirmed its intention to become a major player in the smartphone sector, announcing partnerships with China Mobile and Brazil-basedClaro, which is part of the America Movil network.
This is not a regional or emerging market strategy on the part of Dell. "We plan to announce agreements with carriers in other markets eventually," spokesperson Matt Parretta told LinuxInsider.
Dell and its carrier partners will be marketing the Mini 3 smartphone, built on the Android platform. Specs for the device will be announced as the phone is ready to be released, Parretta said. For China, that will be as soon as the end of the month; in Brazil, Claro expects the handset to reach the market by year end.
Dell and China Mobile have been working on product development for more than a year, Parretta added.
Brazil and China First
Dell has existing agreements with other global telecom providers, including Vodafone in Europe; AT&T and Verizon in the U.S.; M1 and Starhub in Singapore; and Maxis in Malaysia.
The company has longstanding ties with both China and Brazil in other IT areas, which may account for its decision to launch the Mini 3 in these huge emerging markets. Dell was among the first mobile PC manufacturers to incorporate China Mobile's 3G technology and services into its netbooks and has since become a top seller of netbooks in the country.
Its ties to Brazil may be even stronger: The country was home to Dell's first offshore software development center, established in March 2001. It now employs more than 500 people and is one of only four IT centers supporting applications and infrastructure for Dell globally, Jairo Avritchir, Brazil IT site director for Dell, said at an IT event in New York this week.
Growing Numbers
Since its initial release a little over a year ago, the open source Android mobile platform has gained significant traction and is poised for global growth. It could take the No. 2 spot in global marketshare by 2012, overtaking the iPhone, Gartner has predicted.
Nokia's Symbian operating system currently owns the top spot, and it is likely to hold onto it even as Android's marketshare grows by an expected 12.9 percent, according to the research firm.
With the number of Android-based smartphones now reaching into the high teens, Dell was smart to launch its device outside of the U.S., said In-Stat Principal Analyst Allen Nogee.
The smartphone industry is different from the PC industry in terms of price points, he told LinuxInsider. Computers, for example, are developed for every pocketbook — from no-name utilitarian boxes to high-end premium machines.
With a few exceptions, though, smartphones are priced roughly the same — which means consumer decisions in developed nations are often based on brand names, Nogee explained. "Given Dell is not household name in the U.S. for smartphones — it is a good strategy to start out in markets where … name recognition is not so important."
In China and Brazil, Dell has a chance of becoming a first mover — or at least standing out from the Android crowd, Greg Sterling, principal of Sterling Market Intelligence, told LinuxInsider. "In the U.S., it would be just another Android phone."
Good for iPhone
There is little doubt now that Android has become the mobile platform to watch. It threatens to crowd out Windows Mobile completely, although Sterling said he is not completely writing off that platform until he sees Windows Mobile 7, which is expected in 2010.
Increasingly, the mobile market is shaping up to be a battle between Android and the iPhone, Sterling said.
"That is good news for the iPhone," he remarked, "because it is distinguished as a device with personality."