The DebianDog distro offers a lot of functionality and customization that frees users from many of the restrictions of a Linux community tied up in its own developmental red tape. DebianDog is fast and focused on getting work done without a lot of distractions.
However, it also is a disorganized desktop environment that can leave new users floundering. DebianDog gives new meaning to eclectic in terms of its look and feel, and documentation is sparse.
For example, the main menu is a mashup of standard system tools, DebianDog-specific utilities, Debian software, and tools to import some Puppy Linux software that's not designed to run on a Debian-based distro. Software titles are not always placed in the most accurate categories.
The DebianDog Linux series offers a Debian-based familiar computing experience. It has a variety of desktop configurations with a Puppy Linux-like appearance. This gives it the same lightweight yet powerful structure as Puppy Linux, all contained on a CD or USB drive to boot into RAM. But DebianDog is not in the Puppy Linux kennel.
A lot can be said about having the Puppy Linux concept powered by Debian Linux. It's a nice combination for anyone familiar with Puppy Linux and the Debian infrastructure.
The Dogged Linux Approach
Like Puppy Linux itself, DebianDog runs fast, even on underpowered legacy boxes. Like Puppy Linux, DebianDog is a "frugal install" OS that does not have to be fully installed on a hard drive. You can bypass your computer's regular boot path by loading DebianDog the same way you would load a Linux distro in live session.
This approach offers a huge advantage over traditional live sessions. You can try out DebianDog, save changes, resume where you left off in future work sessions, and never have to alter the contents of your existing hard drive and resident operating systems.
I have never used a dual boot configuration on any of my computers that did not at some point need the boot loader fixed. Of course, this is usually caused by unified extensible firmware interface (UEFI) and secure boot controls hard wired into the hardware.
Booting into DebianDog from a CD or USB and having access to your saved storage space is a very reliable alternative to a full OS installation. Yet you also have the option to do a complete installation to the hard drive and even set up a dual boot system.
With the frugal installation method, or booting from CD or USB storage, there is no lag time. You can run a fresh unmodified session each time you boot, or create a Save Space on the hard drive or USB boot drive to store all configuration changes, software additions and system settings as persistent memory.
Running DebianDog from a live session boot does not involve waiting for disk reads. DebianDog loads everything it needs into a RAM drive. DebianDog relies on Openbox or Xfce-JWN to handle the desktop functions. This is an ideal choice of lightweight environments.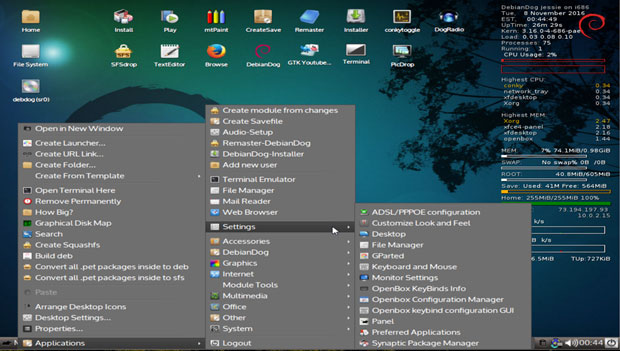 DebianDog's Openbox desktopenvironment in this latest release closely resembles the alternate JWNdesktop. Openbox has some of the Xfce functionality integrated.
Runt of the Litter
I have used various Puppy Linux variants for years. I can pop a bootable USB into any computer and have a fully functional Linux desktop with access to all of my working files. Add an Internet connection, and I have complete access to my cloud storage and my distant main office desktop computer.
Despite my personal history with Puppy Linux, I was not aware of DebianDog Linux until a Linux Picks and Pans reader told me about how he used it before trying one of the Linux distros I had reviewed. DebianDog is not well publicized. I found only passing reference to it on the Puppy Linux discussion forums.
The developer's website, hosted on Github.io, provides the barest of details. It offers little or no community interaction or help forums. Unlike Puppy Linux, the Debian-based software requires little learning to use.
However, if you are not used to frugal install environments used by Puppy Linux, Porteus and other so-called portable Linux distros, you will not find much help beyond trial and error.
Don't get me wrong. DebianDog works fine out of the box, and it is easy to customize. Just make sure that you correctly set up the Save Storage mechanism before you waste hours of fiddling only to discover that it didn't save.
Under DebianDog's Collar
DebianDog is not a variant of the Puppy Linux family, although the name suggests otherwise. It is not Puppy Linux based on the Debian structure. The developer emphasizes that DebianDog has nothing to do with Puppy Linux. Puppy Linux is built on the Arch Linux underbelly.
DebianDog is a small Debian Live CD designed to look and function like Puppy Linux, but its Debian structure and behavior are not modified. It has access to all Debian (.Deb) repositories using apt-get commands in a terminal window or the Synaptic Package Manager from the menu.
The latest version, DebianDog Jessie-Openbox-Xfce-JWN, was released last fall. It is upgraded from DebianDog Wheezy, but it has some modifications and fixes to accommodate Jessie's specs.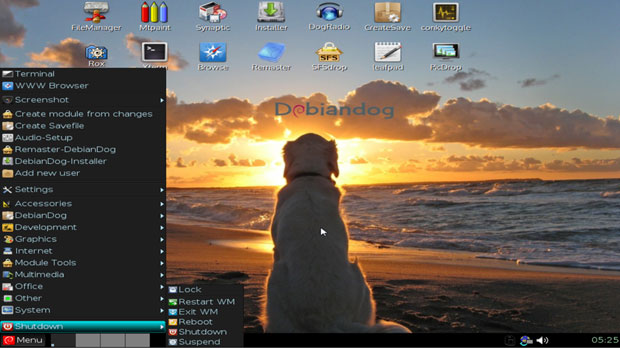 DebianDog's JWN desktopenvironment provides a traditional configurable panel with workspaceswitcher applet by default. You can turn the Conky applet on/off with asingle click. The quick launch icons at the top of the screen cannot beadded or removed.
Two earlier versions based on Jessie are still available. Both were released in 2015. The latest version uses Firefox as the default Web browser.
The desktops are configured differently. For example, DebianDog-Jessie-jwm_icewm-2015-09-02.iso runs Kernel-3.16.0-4-586, which is ideal for older computers. Or you can get DebianDog-Jessie-jwm_icewm-2015-09-02-PAE.iso, which runs Kernel-3.16.0-4-686-pae — a better option for modern computers.
Both older versions give you the JWM as the default window manager with the option to switch to IceWM. The default file manager is XFE with an option to use Rox. The default Internet Browser is Dillo.
Working With Options
The latest version runs Kernel-3.16.0-4-686-pae. Both default to the OpenBox window manager with Xfce as the desktop.
The default file manager is Thunar with an option to use Rox. The default Internet browser is Firefox-ESR.
You can switch easily to JWN from Menu >System> Start JWM. In most cases, this will take you to a black screen with a flashing prompt. Enter the command: startx and press the enter key to complete the desktop switch.
You can switch back again from Menu >System> Start Openbox. You most likely will need to repeat the startx command at the prompt.
What has not changed in the latest release are the boot method options. When DebianDog starts its boot process, it pauses at the text prompt for any boot options, called "Cheats," you may want to enter. You can just hit the enter key to resume with the default boot command. The choices are systemd or sysvinit at boot.
To make a change, you must edit the boot code. Adding init=/bin/systemd will boot with systemd. Removing init=/bin/systemd will boot with sysvinit.
The latest version of DebianDog uses autologin as root. To use it as a multiuser system, you should start XDM login manager, which is available only with Jwm running. Type in the terminal the command: xdm-start. Then reboot. xdm-stop will reverse back to autologin as root.
In the OpenBox version, you can install this slim deb package and use menu System -> Start/Stop Slim display-manager. If you like to change the default autologin as root to autologin as user, check the instructions on the download page.
Puppy Crossover
DebianDog's system tools are similar to Puppy Linux, but basic users probably will not need this level of flexibility and customization.
For example, you can create easy separate squashfs modules and remaster the system with personal changes. Also, you can use or convert pet packages and sfs files from Puppy Linux.
Be careful, though. DebianDog does not play well with mix-and-match repositories. You easily can corrupt the file system if you introduce .pet formats and squashfs file modules with files maintained by Debian's Synaptic Package Manager.
Bottom Line
The earlier versions of DebianDog work flawlessly, but the latest release seems to suffer from some work-in-progress flaws.
I had very little trouble running the default software as-is. When I changed system settings or configured applications a certain way, those changes either did not work or were accompanied by a variety of glitches.
I also had some trouble getting the persistent memory options to work. A related problem was setting up the personal save storage file. These issues cropped up or did not appear at all, depending on the hardware I was using. I used the same boot CD and bootable DVD drive on all of my test computers.
DebianDog Linux is a good alternative for Linux users looking for something different. It is a very good OS choice if you work on multiple computers or travel around to various work locations and want all your work files on the same OS configuration that you carry in your pocket.
DebianDog can be a very workable alternative to lugging a laptop around.
Want to Suggest a Review?
Is there a Linux software application or distro you'd like to suggest for review? Something you love or would like to get to know?
Please email your ideas to me, and I'll consider them for a future Linux Picks and Pans column.
And use the Reader Comments feature below to provide your input!