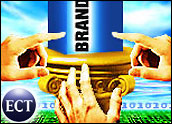 Loyalty schemes had been around for years before their sponsors paired them with purchase power on credit or debit cards.
For any best customer program, the business running it measures its effectiveness on two levels: the top line and the bottom line. On both levels, co-branded and proprietary credit cards have performed very strongly. They attract new customers — a top-line indicator — and continue to nurture growing outstanding balances important to bottom-line revenue.
Entering Its Teen Years
The GM Card, launched in 1992, rewards its account holders with 5 percent on all credit card purchases. Such a rich offering is nearly an anomaly in a credit-savvy market with habitually segmented rewards — deeper benefits for purchases with the co-brand (typically only as high at 3 percent) and a standard 1 percent for all other purchases.
According to Ryndee Carney, manager of marketing communications at General Motors in Detroit, GM cardholders have a purchase cycle of nearly a year faster than average GM customers. The GM Card, offered through bank partner HSBC, has generated nearly US$6 billion in redeemed earnings — that represents more GM cars and truck purchases than GM would have sold without the reward card benefits, the car manufacturer believes — "and lasting relationships with customers so we can earn even more of their business in the future," Carney says.
The GM Card has expanded to embrace GM employees and their families with the GM Extended Family card (issued by HSBC) and small business owners with the GM Business card (issued by Chase).
Jack Harvey, managing director of marketing for HSBC's credit card services unit in Salinas, Calif., says HSBC's GM portfolios came out on top in a market that saw limited organic growth in 2004 yet has new growth built into 2005 plans — "not only growth in new accounts, but just as importantly, a reduction in customer attrition through enhanced retention offers and servicing," he says.
Airlines Care for Cardholders in Tough Times
Jeff Sullivan, Delta Air Lines' general manager of worldwide credit cards, says the Delta SkyMiles American Express portfolio, launched in 1996 and recreated in 2001, continues to grow despite the airline's financial woes. Especially because of the carrier's flirtation with bankruptcy, the revenue stream a co-brand credit card brings cannot be overlooked, he says.
"The partnership domain has tended to increase significantly over the years, specifically in the past five years," says Vik Atal, executive vice president of Citi Cards, New York, issuer of one of the first co-brand cards, the American Airlines AAdvantage card. Citi now offers four flavors of the card: Platinum Select AAdvantage World MasterCard, gold AAdvantage World MasterCard, business AAdvantage Visa and business AAdvantage MasterCard.
"Companies are actively and with increasing intensity exploring other venues to extend their reach," he says. These venues include channels like the Internet, of course, but also partnerships.
"Partnering can create much more consumer relevance," Atal continues. And it can create more business for the issuer and supporting brand. In the case of Citi, more than 60 percent of its card transactions are on co-brand or affinity products, Atal says.
"I do not believe co-brand or affinity cards will ever run their course, and as new payment vehicles and card types develop, co-brand and affinity programs will embrace them rather than compete with them," HSBC's Harvey concurs.
Establishing a Relationship Growth Curve
In addition to the AAdvantage card and about 50 others, Citi issues the Shell MasterCard and Shell private-label credit cards. Shell sees its varied card portfolio, which also includes a stored-value/gift product, as complete customer care, from the time a consumer starts driving to the time they establish financial independence to the time they choose a preferred credit card for purchases and rewards.
"It is important to give customers a choice so that you can migrate them to Shell cards as their credit cycle matures. We want them to choose the Shell-branded card that best meets their needs and as those needs change," says Carolyn Yapp, U.S. cards and payment manager, Shell, Houston.
"Our gift card is used as an invitation to the Shell brand. It's an efficient tool to bring new consumers to the brand," she continues. "Offering customers a proprietary card and a co-brand card allows us to fulfill the needs of our customers as their credit lifecycle matures." The Shell gasoline card provides entree to the credit world. The limited spending line earns consumers a credit history. The Shell MasterCard, then, exerts a more comprehensive appeal because it delivers Shell benefits no matter where purchases take place.
"Each of the cards is important to the brand because Shell-branded card holders are more loyal to Shell," Yapp says. "Typically, they purchase gasoline at Shell stations more frequently and they purchase near double the gallons per month as non-branded card holders."