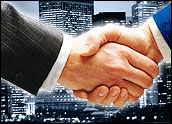 Computer Associates International today announced it has signed a definitive agreement to acquire Netegrity, a leading provider of security software solutions, in an all cash merger valued at approximately US$430 million, or $10.75 per common share.
The value of the deal is approximately $340 million net of the cash and marketable securities on Netegrity's balance sheet.
The acquisition is subject to customary regulatory approvals and the approval of Netegrity's shareholders and is expected to be completed in the next 90 days.
Stockholders representing approximately 10 percent of the outstanding Netegrity shares have executed voting agreements under which they have agreed to vote in favor of the transaction.
Identity, Access Management
"CA continues to move forward and align its resources and investments with the company's strategic growth opportunities: internal development, geographic expansion, new routes to market and acquisitions," CA Chief Executive Officer Kenneth Cron said.
"By adding the best Web security product on the market to its portfolio, CA significantly strengthens its leading position in identity and access management (IAM). Security continues to be critically important to CA, and we will ensure that we offer customers the broadest and deepest IAM suite in the industry," Cron explained.
The acquisition is expected to be neutral in fiscal 2005 and slightly accretive in fiscal 2006 on a GAAP basis through cost synergies alone, CA said in a statement it realeased.
"CA conducted extensive due-diligence of Netegrity," CA Chief Operating Officer Jeff Clarke said. He said: "I am confident this acquisition will deliver a financial return in excess of our weighted average cost of capital. In addition, we believe there is the potential for substantial upside through revenue synergies."
Solid Balance Sheet
Clarke explained that: "We were informed of Netegrity's earnings preannouncement and priced our offer accordingly. This acquisition will continue to build CA's leadership position in security management."
The COO added: "Our balance sheet is solid, and as we continue to see opportunities for consolidation throughout the industry, we will leverage these opportunities to round out our product portfolio and build out our enterprise infrastructure management strategy."
Netegrity's operations will be integrated with CA's eTrust Identity and Access Management group, the company said. CA is currently evaluating the significant cost efficiencies associated with the integration. It is anticipated that the vast majority of Netegrity's approximately 400 employees will remain with CA.
"Our customers are looking to reduce costs, increase productivity and provide secure environments for their businesses," Russ Artzt, CA's executive vice president for eTrust Solutions, said. "Suites of products that are well integrated and have all the necessary IAM functionality provide the answer to many of our customers' concerns," he explained.
Extranet Access Management
Artzt added: "A secure environment starts with access management, which is why it is critically important to have the best solution. Netegrity is the clear leader in extranet access management and is a significant player in the emerging provisioning market. In addition, Netegrity has a focused sales team, enhanced by skilled solution architects and software development teams."
eTrust Identity and Access Management Suite is a complete, standards-based approach to automating and integrating identity and access management across enterprise, customer and partner environments.
In addition toSiteMinder, its access management technology for Web-based and enterprise applications, Netegrity also offers TransactionMinder, the industry's first policy-based solution to secure access to Web services; IdentityMinder Web Edition, a flexible, roles-based user administration and access management solution for Web-based applications; and IdentityMinder eProvision, a comprehensive solution for creating, modifying and terminating identity-based access to enterprise systems and physical resources.