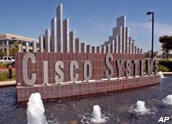 Cisco Systems released fourth quarter and fiscal year results that heartened technology investors and, according to the networking giant's CEO, reflected "great execution across the company."
For the year, Cisco reported net sales of US$34.9 billion, a 23 percent increase over its 2006 sales figure, and net income of $7.3 billion. Its fourth-quarter net sales of $9.4 billion reflected an 18 percent increase over Cisco's Q4 2006 performance, said the San Jose, Calif., company.
Fourth quarter earnings were 36 cents per share, excluding certain charges, 20 percent higher over last year's fourth quarter. Analysts were expecting Cisco to report quarterly earnings of 35 cents a share.
Among the analysts praising Cisco's success was Gerry Kaufhold of In-Stat. "Cisco Systems is executing on their long-term strategy to springboard from being a major provider of technology infrastructure and extend their leadership into software and services that generate recurring revenues," Kaufhold told the E-Commerce Times.
Big But Agile
The company "delivered another record quarter with great execution," Cisco chairman and CEO John Chambers said in a statement. The good performance was due to the company's "balanced approach to products, services, geographies and customer segments" as well as its ability to see and move on major market changes, he said.
The purchase last year of Scientific-Atlanta brought Cisco $2.8 billion in net sales for the year, a significant jump from the $989 million it yielded in 2006. Additionally, the satisfying numbers in the fourth quarter had much to do with "strong technology announcements and significant customer wins" globally, Chambers said.
Cisco recently announced many new data center products and solutions in what it called "its vision for next-generation data centers" that will focus on easier-to-use, more secure and more cost-effective data center resources.
Moving and Shaking
The company noted it partnered with EMC and Microsoft to create the Secure Information Sharing Architecture (SISA) for protecting and sharing sensitive government information. Cisco's 12000 Series routing platform reached a sales milestone: It passed the $10 billion mark in revenue in 10 years, with more than 35,000 systems installed since it was introduced in September 1997, the company said. Also, 85 companies have purchased the 900 CRS-1 carrier routing systems since the product was introduced three years ago, Cisco said.
It cited the acquisition of WebEx, an on-demand collaboration application provider, and of BroadWare, a maker of IP-based video surveillance software, as highlights of the fourth quarter.
Other Q4 standouts were its release of a streaming to content delivery system that helps in Internet deployment of video entertainment systems; growth of the Cisco's Unified Wireless Network product line; the introduction of Cisco In-Store Mobility Solutions for retail store mobile devices and the release by subsidiary Linksys of enhanced entry-level Gigabit smart switches for small businesses.
On the customer success story front, Cisco pointed to a new data center deployed by Scottrade and capable of processing 1 million transactions daily. Also, Wachovia Corporation finished its first deployment of Cisco TelePresence, which enables virtual meetings, and Sprint relied on Cisco for its enhanced wireless wide-area-network.
A Lucrative Next-Gen Web
Cisco is in perfect position to play a part in the growth of the Web, Chambers said.
"As we turn our attention to the next fiscal year, we believe that we are headed into a new era in networking that we define as the second phase of the Internet," he noted. "We expect that this phase will be driven by collaboration and Web 2.0 technologies and will become an increasingly influential market trend for businesses."
In fact, collaboration has "transformed almost every area" of the company's internal operation and yielded big gains in productivity and efficiency, Chambers said. "We believe this new model will help enable Cisco to identify, target and capture market opportunities more effectively than at any other time in our history," predicted the CEO.
The company's ad campaign featuring "the human network" drives home the point that Cisco, these days, does more than hardware, Kaufhold pointed out. "Their Scientific Atlanta division and their acquisition of WebEx and other groups within the company position Cisco to help enterprises and service providers make the most of the networks that they are building," said the analyst.
Triple-Play for Expansion
Kauffman, noting Cisco is "riding an 18-month wave of record revenue and net income," believes the company is tapping into "three growth vectors." The first is a major upgrade cycle of existing networks, the second is widespread international broadband and digital TV deployments, and the third — "just beginning its trajectory" — is "the movement towards true convergence of networks."
As Kaufhold sees it, Cisco is positioned perfectly to take advantage of the desire by people "to be able to communicate, be entertained and participate with their friends using networks that don't block their access based on technology or operator."