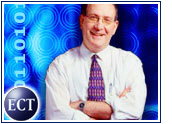 The Chordiant 5 Selling and Servicing suite aims to help enterprises like retail banks market and sell through servicing existing customers. Chordiant is staying close to its tried-and-true vertical expertise, according to senior vice president of marketing David Straus.
The company has had strong success in the financial-services market, and that is where it continues to focus. "If you're not in retail banking, insurance, or credit, you're not our prime customer," Straus told CRM Buyer Magazine.
"If you think about a retail outlet likeBest Buy," Straus said, "you see that people typically don't go there forservice." Thus, Chordiant's primary goal isto provide exceptional service at the lowest cost to the customers theyalready have. Another is to use every servicing opportunity toaccomplish marketing, cross-selling and up-selling.
Taking the Industry Pulse
Through its Industry Pulse program, Straus said, Chordiant visits bank branches and calls contact centers to understandthe challenges facing the enterprises it serves. Customers working withbank tellers who have no idea that same customer has been calling aphone representative get frustrated easily and frequently, he said.
For example, Straus tells of one time when a bank employee had no ideawhat marketing offer had been sent to a customer via direct mail andseemed to have no way to find out. "That person actually said to thecustomer, 'I suggest you wait for the next mailer and bring it in tous,'" he recounted. These are the types of situations that Straus saidChordiant software's "single view of the customer" can help avoid.
Universal Desktop
Like many CRM vendors, Chordiant emphasizes the fact that users of itssoftware interact with a single, universal desktop that incorporatesrole-based security. "We implemented at one customer site that had 17different systems that wealth advisors had to toggle through," Strausnoted. "And unlike a company like Siebel, for which you have toimplement all Siebel applications, we use the desktop to integrateapplications and data from other systems."
Banks and other financial services institutionshave, in many cases, over 30 years of computing experience under theirbelts. Straus pointed out. As large enterprises with many layers of legacy, mainframe-based systems, they cannot afford wholesale conversions to accomplish CRMproject goals.
Process Runs the Show
The selling point Straus emphasizes most to business-sideexecutives at prospective customer companies is that Chordiant softwareis process-driven rather than data-driven. "This goes back to thefounder of the company, who believe that applications should be builtaround processes, profiles and policies," he said. "We've seen thehuge cost of taking out-of-the-box, data-driven applications and tryingto break them to fit business needs — that's what has caused the CRMindustry to have a bit of a black eye right now."
To executives on the IT side, Straus emphasizes that Chordiant Sellingand Servicing is built on "Web services, inside and outside." He likesto remind people that Chordiant went with a distributed computingplatform, Java, and Web services early in the CRM game — taking a riskon what was then a unique technical direction.
"We could have been wrong," he mused. "The whole world could have movedin a different direction. But now, that Java-based Web-servicestechnology is becoming very meaningful."