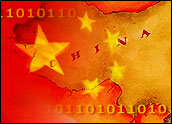 China's State Intellectual Property Office (SIPO) is reportedly paving the way for software firms in that country to sue Microsoft for its business practices. However, the agency has denied that it is undertaking an investigation, according to reports.
SIPO is conducting an investigation into whether Microsoft has behaved as a monopoly and whether a new law to take effect on Aug. 1 would enable Chinese software makers to file private lawsuits against the Redmond, Wash., company, according to Xinhua Financial News.
The agency is reportedly looking into why software costs are sometimes considerably higher than in other jurisdictions, with big-name software suites often costing as much as or more than a Chinese-made personal computer.
Neither Microsoft nor SIPO responded to requests for comment.
SIPO is already reportedly looking into whether dominance in one area — such as desktop operating systems — is being used to squelch competition for other types of software. Large foreign software companies reportedly are also being looked into, suggesting the probe could go beyond Microsoft.
Microsoft's biggest problem in China has traditionally been dealing with rampant piracy, with many businesses and individuals using unauthorized versions of its products, a problem that Microsoft has cooperated with the Chinese government to address.
Joining the Chorus
If the reports pan out, China will be the latest jurisdiction to take aim at Microsoft's business practices, after the U.S., Europe and South Korea.
In fact, Microsoft this week filed a status report on its compliance with the 2002 decree reached with the Department of Justice that put an end to U.S. antitrust prosecution of the software giant.
In its filing, the company says it continues to expand the team dedicated to creating documentation of its software products — a group that now includes 750 people — and has reduced the cost of licensing protocols to third parties, issues that were raised by regulators during the last round of updates a year ago.
Meanwhile, even with a deal reached to close the inquiry into Windows bundling, Microsoft continues to appeal some US$1.4 billion worth of fines European regulators levied for what it called a "lack of cooperation."
China would represent a new challenge, however, in no small part because the laws Microsoft could be accused of violating are untested and the legal landscape uncertain.
"Microsoft's history is for these things to take years and cost millions of dollars, even when they reach an agreement in the end," Ovum analyst David Mitchell told the E-Commerce Times. "Having another front open at this time would not be good news."
Unique Situation
The China situation is unique, Yankee Group analyst Laura DiDio noted, because that country is seeking to encourage the growth of its own software vendors, many of whom — such as Red Flag Software — are engaged in selling Linux-based alternatives to Microsoft's products.
By contrast, European and U.S. regulators were motivated largely by complaints from other established companies with their own proprietary products, DiDio told the E-Commerce Times.
"Microsoft has said that its products cost more in China because of piracy, and it has made progress in that area," she added, noting that Microsoft may be able to negotiate cooperation on its piracy crackdown with concessions in other areas. "It's a complicated situation, and there really isn't any precedent to take guidance from."
Microsoft investors appeared to be unfazed by the reports, with the company's shares rising 1.4 percent in midday trading Thursday to $28.87.