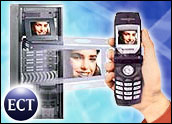 You catch the early train and can't watch your favorite morning news show; you work late one night and miss the latest "CSI," or you're stuck sitting in an airport while your favorite team is playing in a championship basketball game. In the past, you had limited options in situations like these: Tape or TiVo the show and watch it later, or simply miss it completely. But soon, cellular network suppliers may present you with a better alternative: watching television programs on your cell phone.
The emergence of higher speed cellular networks and more capable handsets are making it possible for these companies to transmit video content to users. After rolling out online gaming and photo services, carriers are now developing network TV show services. Just yesterday, Nokia announced a mobile television pilot program in Finland.
"Cellular carriers are banking on the fact that Americans love TV," said Neil Strother, an industry analyst with In-Stat/MDR Inc. "By delivering these new video applications, carriers think they will be able to lower customer turnover and develop new revenue streams."
Team Effort
Delivering on that potential requires support from a variety of sources, including technology providers, content suppliers and the cellular carriers themselves.
"Cellular carriers had been interested in offering video services for quite some time, but it is only recently that the technology has evolved so they can deliver it," said Kurt Scherf, an industry analyst with market research firm Park Associates.
In recent years, handsets have been gaining power. Vendors such as Motorola, NEC, Nokia, Samsung and Toshiba now have phones with equipped with tuners that can receive TV broadcasts, and companies like Texas Instruments are developing integrated microprocessors designed to transform a handset into a digital TV.
Traditionally, cellular networks were more adept at carrying voice traffic than video transmissions. With carriers upgrading to 3G services, their networks are now able to deliver high-bandwidth video services.
There are still a few hurdles that need to be cleared to make TV delivery by cell phone feasible. Supporting video content requires more processing power than does carrying voice. In a best-case scenario, a handset battery would last about one hour when displaying a television show.
Technical Challenges
Sitting and watching the screen for long periods of time is also an issue. While handset displays have been improving, they are not yet close to the quality that one gets on a laptop, let alone a TV. "It can be difficult to read items like news and sports updates that scroll along on the bottom of the screen on a cell phone," noted Clint Wheelock, vice president at market research firm The NPD Group.
In some cases, users may find that operators' relatively slow wireless (about 300 kbps) networks deliver not a real television experience, but rather a slide show effect more like a series of still photos rather than full-motion video.
Initially, cellular services operated at a rate of 5-7 video frames per second compared to the 30 frames per second found with television. Recently, services that operate at speeds of 12-15 frames per second have enhanced consumer's video experience, but still, the video can be jumpy.
The format also creates logistical problems. If a person is in an airport, many times he or she may be able to find a lounge area with a television so they may be less likely to watch TV via a cellular device. And many business travelers travel with a laptop and a cell phone. "Why would they want to watch a show on the smaller display?" asked Parks Associates' Scherf.
Formatting Key
In response, carriers have been working to deliver cell-phone specific content. "Carriers have focused on short, three-to-five-minute clips that are developed by popular shows," The NPD Group's Wheelock told TechNewsWorld. A cell-phone version of Fox's "24" series recently generated some buzz, and news and sports reporting organizations are developing cell-phone versions of their shows as well.
To date, overseas carriers have been ahead of domestic carriers in deploying video services. Telecom Italia SpA and Hutchison Whampoa Ltd. offer streaming TV and prerecorded video clips to their users. A version of Bloomberg Television, which focuses on business issues, is being distributed on handsets in Hong Kong.
Yesterday the Finnish telecom provider Nokia announced it would test a mobile television service. About 500 users in the Helsinki region will be able to view real-time TV programs on a Nokia 7710 equipped with an accessory to receive TV broadcasts.
Recently, U.S. carriers have begun dipping their toes in these waters. Sprint TV has agreements with CNN, Music Choice, Twentieth Century Fox, E! Entertainment Television and Cartoon Network Mobile to deliver video over its network. Cingular Wireless has been promoting its MobiTV, which runs on a half-dozen handsets, including Motorola's Razz. Verizon rolled out its vCast service in 32 cities and on a few devices.
As these services become available, the key question becomes how the carriers will make money from TV content. Currently, they offer it as a value-added service, with prices between $15 and $50 per month, plus user access charges.
Foreseeing Hurdles
Obviously, the lower the pricing, the more consumers carriers will attract. "Since the television market is so new, carriers are being challenged to deliver video services at attractive prices while offsetting their technology investments," In-Stat/MDR's Strother told TechNewsWorld.
How many users will pay for the services is debatable. "I just see too many barriers and too many alternatives available for large numbers of consumers to move to cellular video services," noted Parks Associates' Scherf, who expects less than 5 percent of users to take advantage of the services.
The NPD Group's Wheelock has a different opinion: "I am quite bullish on the future of cellular video services. Carriers have already proven that areas like online gaming can be successful, and there are many similarities with it and the new video services."
Analysts expect 2005 to be a year of experimentation in this market with carriers continuing to develop new services and test service pricing. By 2006, it should start to become clear whether cellular video will be the next TV hit or the latest in a long line of flops.